If you looked up at the Moon on Thailand's Visakha-puja day (1 June 2558) this year, you would have noticed that the Moon was not quite full. At my place in Dreamland, last night (3 June 2015) was the Full Moon. Now if you looked up the calendar, you would see that 1 June 2558 was in Lunar calendar the Full Moon of the Seventh month ( Visak Day is supposed to be on the Full Moon of the Sixth lunar month of the year). But if you looked the Lunar calendar on the Internet, then you could see something like:
Full Moon in Thailand: Mon 1 June 2015

Full Moon in USA: Tue 2 Jun 2015, 12:19 P.M.
Full Moon in AUS: Wed 3 Jun 2015, 02:19
So, when is the Full Moon in June this year? Really, what we have looked up did not make sense. Just like a rabbit on the Moon. Look at the picture below. I have a proof that there is a rabbit in every peanut!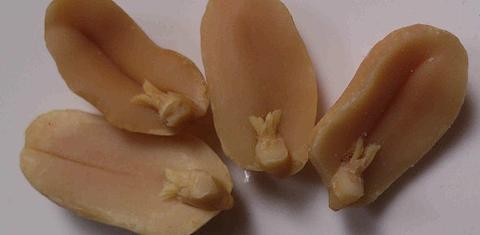 Many questions like: How do we calculate the Lunar calendar? Does our calculation match up with the real Moon in 'our sky' (remember the arrive 1 day late in USA sky)? Is it time to re-adjust our Lunar calendar so we can have the day for Visakha-pucha on the Full Moon of the Sixth Lunar month? (A real mess this year!) Perhaps you can help me here ;-)

What more is - this year we are having 2 Eighth Lunar months (เดือน ๘ สองหน -- look up a calendar please). Enough to throw the Vassa (วันเข้าพรรษา) into another confusion.
Thai teachers, wouldn't this year 2558 make an interesting subject for school study and report?
No, I don't ask astrologers or horoscopers, I have enough to think about, But if you really must... ;-)
[Added for learners of English]

Just a few words of English about the Moon (note the big 'M')
- New Moon แรม ๑๕ ค่ำ
- Waxing Moon ข้างขึ้น
- First (half) Moon ขึ้น ๘ ค่ำ
- Full Moon วันเพ็ญ ขึ้น ๑๕ ค่ำ
- Waning Moon ข้างแรม
- Last (half) Moon แรม ๘ ค่ำ
- Moon rises พระจันทร์ขึ้น (as for Sun rises)
- Moon sets พระจันทร์ตก (as for Sun sets)
- Blue Moon - the second full Moon in a Gregorian calendar month; blue Moon can't happen in February (why?); the next blue Moon is on 31 July 2558; on very rare occasions the Moon can appear 'blue' too.

From http://stardate.org/nightsky/moon
The most common names used in North America include:

January -- Moon after Yule
February -- Snow Moon
March -- Sap Moon
April -- Grass Moon
May -- Planting Moon
June -- Honey Moon
July -- Thunder Moon
August -- Grain Moon
September -- Fruit Moon (or Harvest Moon)
October -- Hunter's Moon (or Harvest Moon)
November -- Frosty Moon
December -- Moon before Yule

Note: The full Moon of June is known as the Flower Moon, Strawberry Moon, Rose Moon, or Honey Moon.