คุณ Pertti Juhani Rapo ส่งข่าวคราวความก้าวหน้าของตนเอง ทั้งในเรื่องของการวิ่งมาราธอนและสุขภาพมาให้ทราบตั้งแต่เมื่อสัปดาห์ที่แล้ว เพิ่งได้โอกาสนำมาเผยแพร่ค่ะ
วัลลา ตันตโยทัย วันที่ ๒๔ มกราคม ๒๕๕๐ 
Start to feel like a long distance runner…
But how to maintain weight?
I have been keeping very strict control on my weight by running and controlling what I eat. I have no problems at all with these but I cannot understand why my weight is so easily getting up even with quite heavy training (I do not think anybody else in my company is crazy enough running every single morning 8-10 kilometers and either half or full marathon every Sunday morning). After a regular marathon run of 42,195 meters, I often gain weight rather than loose anything! My doctor hinted that it must be due to intensive drinking under the near five hour running session… The great thing is that my cholesterol, blood pressure and overall feeling are OK! 
 
December 24th 2006, I traveled to Chiang Mai with a small 9 people running team – my sixth marathon within 5 months (I just upgraded to full marathon late July last year). The first time in Thailand I understood what is cold in this country. Due to a traveling peak, the city was packed full with tourists and it was practically impossible to get a room walking in a hotel in that city. Because we were committed to run the Chiang Mai 750 year anniversary marathon, we finally found a hill top small cottage to spend two nights before and after the marathon.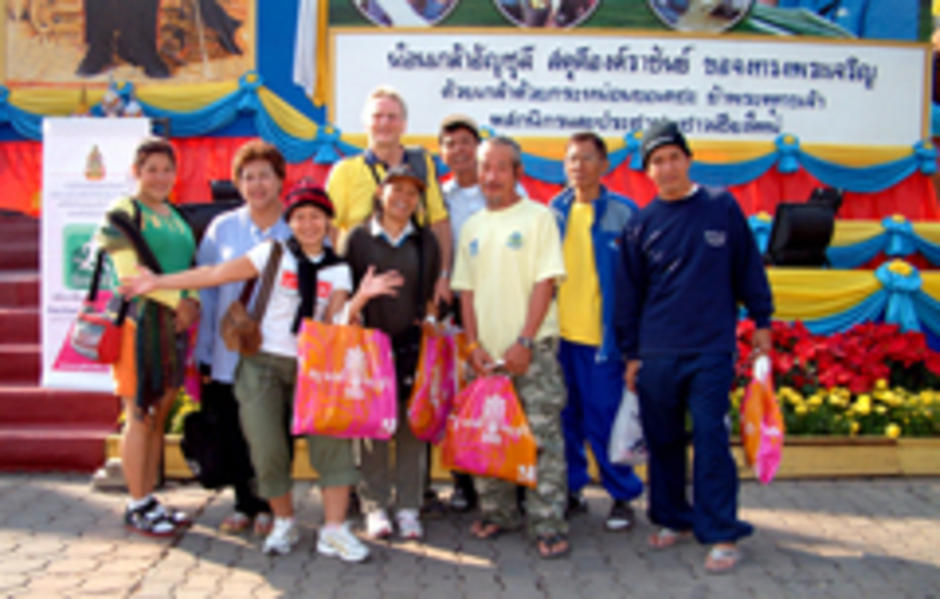 Running Team
Camping in fresh air
I decided to sleep outside in a tent to listen the nature's own music and to feel the fresh air. And fresh it was. Waking up 2 AM the morning of 24th to get ready for the marathon was cold! 3 centigrade Celsius got even the most weathered runner to tremble of cold. We all had warm training suits on while heading to Chiang Mai's historical center to get run start at 4 AM. Somehow, in spite of coldness, I decided to take off the warm suit just before the start. I thought it would be inconvenient to run in a wet training suit after half hour or so.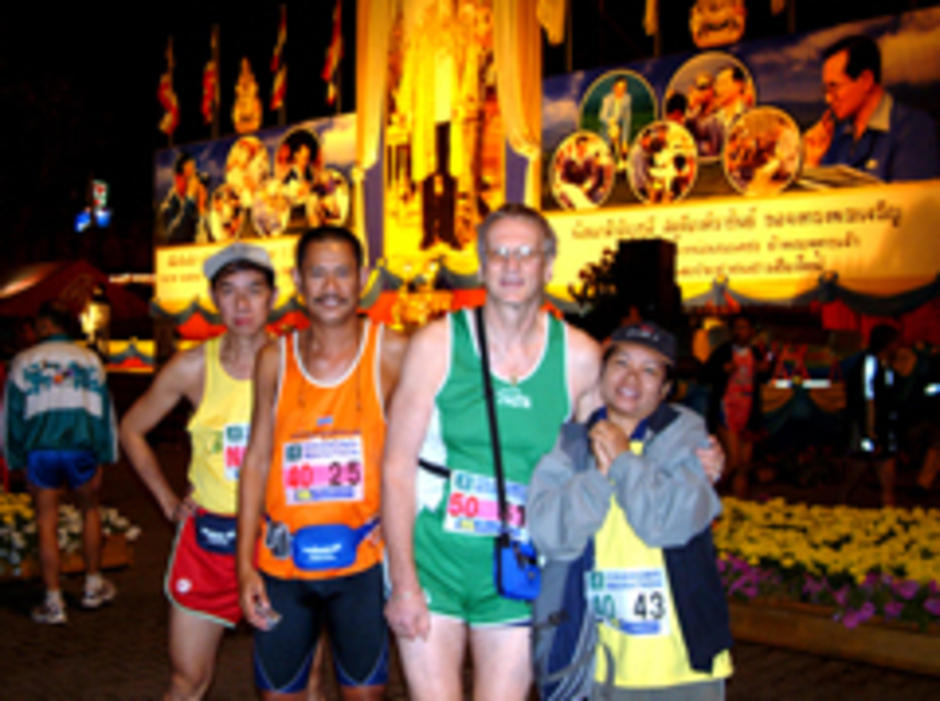 คุณ Pertti (เสื้อเขียว) Chilly Running
Well, For the first two hours I was thinking that leaving the suit of was not clever at all; I felt and I think everybody felt, the touch of the north that morning (on the running track, I saw 2 Songla youngsters running in just small running shorts and with  no shirts – they must have really felt the chilly coldness of the north!) The good result of the fresh air was that I improved my time nearly 10 minutes from my previous record and my new time is 4 hours 46 minutes.
Everybody felt great after 4-5 hour running – "kuam suk" – happiness having been facing that running challenge once again. All of us were immediately after the finish line already discussing about the next events!
One of the runners, Niphon (everybody calls him Kim, I do not know why) said:
- It is strange, the last few kilometers in a marathon run are always quite challenging, legs ache, one is tired and feels real exhausted… And the minute you arrive in the finish line, you start to plan for the next running trip! We must be crazy!
It feels really strange, indeed. By any norms, it is quite a challenge to most of the people, to keep on running around five hours (some spend up to seven hours!) in row. Since Chiang Mai, about three weeks after, I have already run two 21 km half marathons, one ten km race and one short six kilometer distance. And next weekend I will attend my next full marathon followed by another one just one week later. I will then have made eight full 42,195 km marathons within six month period. Not that bad for an older person of 55, who started the whole running business just little more than four years ago with living weight of 123 kgs!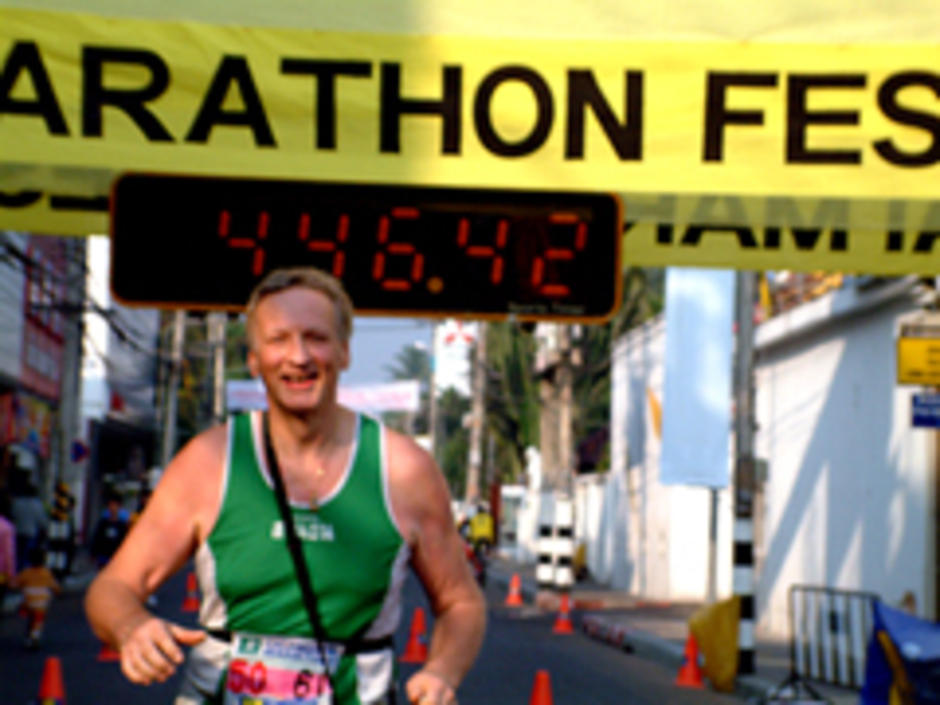 The new record
Since starting this running activity, I have become more balanced and my weight now is moving between 84 and 87 kg. As I told in the beginning, I have not really been able to understand why it is so difficult to just keep in at the 83/84 kg level. I do not eat a lot (and no meat, no fat) and I run every single day 7-10 km at 5:30 in the morning and either 21 or 42 kilometers on Sunday mornings.
First check up – deceiving results
I had a check up made after Bangkok marathon mid-November because a check last August showed increased cholesterol again (226, LDL 140, HDL 70, Triglycerides 109,  Glucose 104). Somehow, while requesting a full cholesterol profile now again, the doctor close to my office then insisted that checking the LDL level is just enough. The laboratory results then showed that the LDL level was 134 (also the glucose level was slightly over the normal, 104 or so). The doctor then prescribed me cholesterol lowering medication "just to prove that it works, because the new standards now say the LDL must be lower".
I did not eat those pills, I simply decided to cut my diet to nearly full non-fat again and decided to increase my running again. If needed, I will do dull marathon every single Sunday morning rather that eat those pills!
Another check after 2 more marathons – OK!
Finally, after my Chiang Mai marathon December 24th , I had a new check up now at Theptarin hospital. This time I wanted to chat with the doctor to gain better understanding about how to keep cholesterol levels and the weight down.
After new laboratory test, this doctor told me there is no reason to worry and absolutely no reason to eat cholesterol medicine. The running and keeping watch on fat food is good enough if not better medicine than anything else!
After one month of worrying, I was a happy man again – nothing to worry. I just love keeping on running! My lab results, by the way were in December 28th : total cholesterol 198, Triglycerides 73, HDL 65 and LDL 117 glucose 99.
So, the final result is that I listen to a recommendation that Dr Thep gave me about 1,5 years ago when I showed me my old 123 kg picture: - Khun Pertti, please do not stop that running! I certainly will keep running and plan to change my standard distance of 21 km into 42 km full marathon as often as possible and at least twice every month – rest of the time 21 and 10 km short distances only ;-).
Keep on running – only a little of GATII SAUT!
Even if I keep on watching on my diet, I still not want to give up "Gatii Saut", the real rustic Thai coconut ice cream. I take my own right to eat it after every marathon and several portions even. And my target is to get my weight stabilized to about 83. I just need to learn and understand more about liquid balance; I have been sometimes very upset noticing that after coming back home from a full marathon trip, my weight has increased one or two kg or so!
And I did not eat any fat and even the "gatii saut" consumption was under good control! Doctor Sriuri at Theptarin told me that probably the heavy liquid intake during the run accumulates into my body and it takes another few days to get down to normal conditions again. All runners drink a lot of water and juices before, during and after running…
Running for health!
See you next time
Pertti   
บันทึกนี้เขียนที่ GotoKnow โดย วัลลา ตันตโยทัย ใน DM KM Facilitator
คำสำคัญ (Tags)#สุขภาพ#ออกกำลังกาย#marathon
หมายเลขบันทึก: 74170, เขียน: 24 Jan 2007 @ 15:16 (), แก้ไข: 11 Feb 2012 @ 17:08 (), สัญญาอนุญาต: สงวนสิทธิ์ทุกประการ, อ่าน:
คลิก