Art as a Career: Another Successful Mission in Thai Prisons
Nathee Chitsawang
Art has been introduced into many prisons in the world as an effective way to rehabilitate inmates due to the profound belief that art can give inmates inspiration and liberate the imagination of inmates, away from the world behind bars. It is believed that because of the art, many inmates can think back and learn on their lives and make themselves calmer while in prisons as well.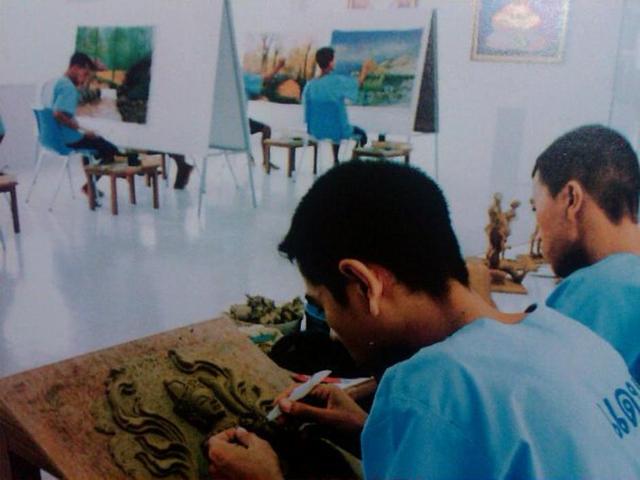 However in Thai prisons, apart from the impact on the rehabilitation of inmates, art has been also employed as one of vocational training programs for inmates after release. Accordingly, it is unsurprising that Thai prisons use many genres of art to vocationally train inmates, namely sculpture, engraving, applying gold leaf on black coat, braiding and painting, etc.
Considering the idea to make art as a career, it was fully developed during 2005 – 2006 at Thonburi Remand Prison and then started to expand to other prisons.
At that time, it was originated at a small prison workshop in Thonburi Remand Prison where there was a corner of drawing and painting. Then Thai Department of Corrections began to promote its policy on this matter by supporting the budget and other resources. Consequently, the 'Art School of Painting' was established. It has continuously provided inmates who are interested in enhancing their abilities with many art training classes. As for those who already possess the skill at professional level and aim to work as the artists after release, they would have the art gallery: a room for inmates to continue practicing and creating their artwork to show to the public.
Many inmates, who did not have any basic painting skills before, would be taught and developed their skills up to the scale that they could do a watercolour, oil and acrylic paintings, as well as the fine line sketch. Eventually, their artwork could be exhibited and sold at the Annual Prison Products Exhibition.
The Prison Products Exhibition is an annual fair that all inmates in Thai prisons nationwide could display their products or artwork and sell them to people in society. The exhibition will be yearly organized in Bangkok and in each region as an approach to show and sell products created by inmates. The total incomes derived from the exhibition will be used as the working capital for the vocational training programs, while the inmates will earn 50 percent of the net profit which could be spent during their lives in prisons or could be collected to spend after release.
All inmates who have been trained in painting classes shall consider the Prison Products Exhibition as one of the great opportunities to show their artwork and make some money from selling their pictures. Each year, inmates' paintings could draw considerable attention from the public and be, therefore, all sold out, particularly those won the awards in the annual competition. Besides the Prison Products Exhibition, the inmates can also sell their paintings and pieces of artwork at the Prison Products Shop usually situated in front of every prison.
The tremendous achievement of art in Thai prisons could be recognized by not only the selling of prison products but also the fact that many pieces of inmates' artwork have been sent to enter various art competitions both domestic and international levels, i.e. the World Prisoner Art Contest which prisoners around the world will submit their artwork.
Currently, there are many ex-inmates who could use knowledge and art skills gained from the art training classes in prisons to work as the artists after release, both full time and part time.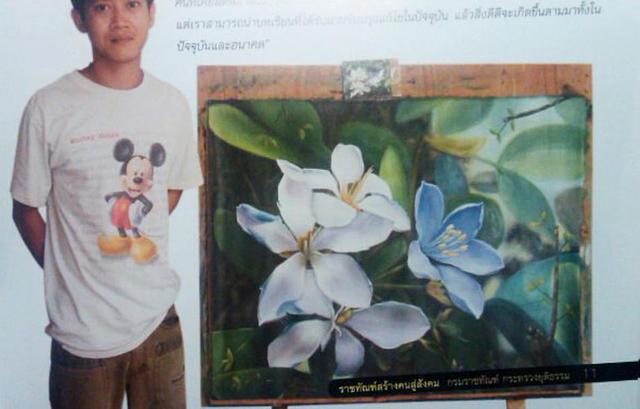 'Pongsathorn', a former inmate, received training in the oil painting class behind bars. Because of his talent, he could create numerous pieces of artwork bringing in a lot of money to him and his family. When he was released from prison, he started to use artistic knowledge gained in prison to work as one of his careers.
"I had never possessed any artistic knowledge before, but when I got an opportunity to learn from prison, I became totally in love with art. Every time that I draw a picture, I am so happy and full of smiles on my face. I would like to share my smiles to everyone who sees my paintings."
Nowadays, Pongsathorn has a decent permanent job and at the same time becomes an oil painting artist at home. He hopes he could have enough money to open the art gallery to sell his artwork.
Another success story, 'Panor' is one of those who gain benefit from applying artistic knowledge to work as a job after release. As he has been interested in art since he was young, when he was in prison he could learn more and more advanced techniques in many types of painting. In other words, although he was incarcerated, he still had a chance to do what he loved. Inside correctional establishment, the prison authority provides the inmates with many activities to give a good chance to practice their skills all the time.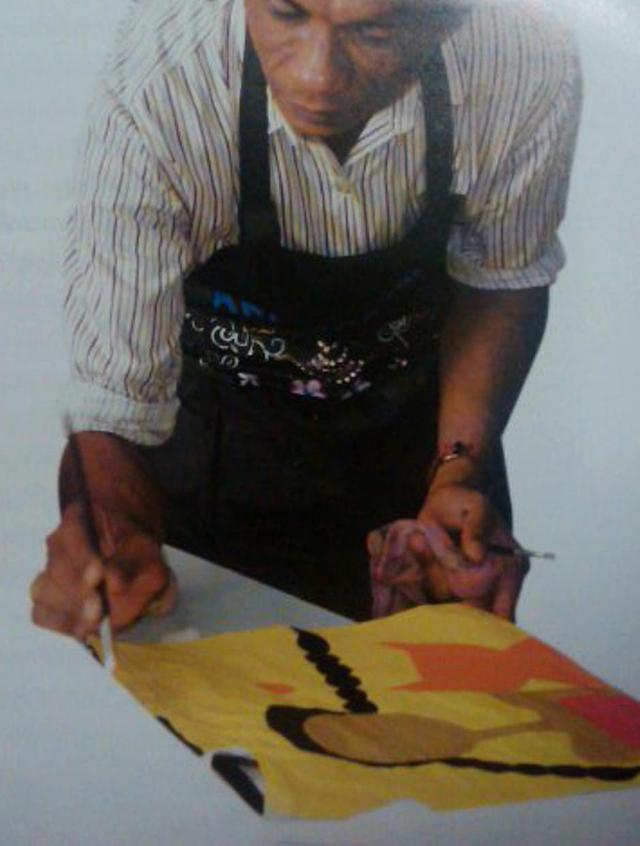 Panor could use the thing he loves and learns from prison to work as an artist, especially the bag painter. He could get a lot of money and be often invited to be an instructor teaching and demonstrating the fabric bag and clothes painting in many agencies.
To sum up, Thai prisons do not only acknowledge the art, in particular painting as a positive benefit in rehabilitation and development of inmates' mind, but also beneficial effect in the vocational training program which could be used as a career for inmates after release. Painting program has become popular among inmates to take part in owning to the fact that art skills could be used as a job after release.

To put it simply, the art in prison is, therefore, 'not only the way to free inmates' souls, but also a chance to free inmates from repeating cycles which is their return to prisons again and again'...
หมายเลขบันทึก: 448883เขียนเมื่อ 13 กรกฎาคม 2011 09:21 น. ()
แก้ไขเมื่อ 11 ธันวาคม 2012 06:48 น. ()
สัญญาอนุญาต: ครีเอทีฟคอมมอนส์แบบ แสดงที่มา-ไม่ใช้เพื่อการค้า-อนุญาตแบบเดียวกัน
---
---
ความเห็น (0)
ไม่มีความเห็น