Will bamboo diplomacy (or in modern concept, "complex engagement") be enough in the 21st century to response the rising China and pivot to Asia by the US.? I'm curious we need another option by completing our ASEAN project instead of sticking to only bamboo diplomacy.
Instead of viewing the Thai contemporary diplomacy in the post-coup era as "shifting toward China" as explained in Pavin's The New Thailand-Myanmar Axis, cited his writing "With China's backing, post-coup Thailand and Myanmar– ASEAN's quasi-democracies– are moving closer together," or Thailand has been pressured by the US by prof Li Haidong, a professor at China Foreign Affairs University as of his talking with Chinese Global Times:
"It's clear that the US definitely does not want to see any closer cooperation between China and Thailand, especially in terms of military and defense," said Li, adding that from the perspective of foreign relations, it is understandable and predictable that Thailand considers its relationship with the US as a very important diplomatic priority,"
Is this phenomenon the default Thai diplomacy, The Thai way's balance of power and bamboo diplomacy has been triggered again accidentally? A natural Thai style hedging diplomacy in international relations, protecting the root of its identity while bending the leaf after the strong wind to survive the whole tree.
I've read this (suspending submarine procurement from China) as a defensive mechanism against the declining of the Junta's popularity after facing various challenges including student's protest, drought, economic depression, IUU and ICAO, etc. So this is unintentional foreign affairs policy to hedging against China and the US. But actually, this happened many times in Thai history.
Thailand has used this kind of bamboo diplomacy since colonial era, strongly intensed during King Rama V while facing the pressure from both British empire and French empire. It peaked with the Bangkok blockade by French gunship diplomacy in "Paknam Incident" in July 1893. After that, Siam had passionately developed her naval force, led by the effort of Admiral Prince Abhakara Kiartivongse, Prince of Chumphon. He wrote the poem to promote the idea of building "steel within person instead of steel within the ship". King Rama V tried so hard to bring Prussia and Russia to counter with France and Britain. After that, King Rama VI decided to take advantage on joining Allied power against Central power in WW I, restoring more privilege back to Siam.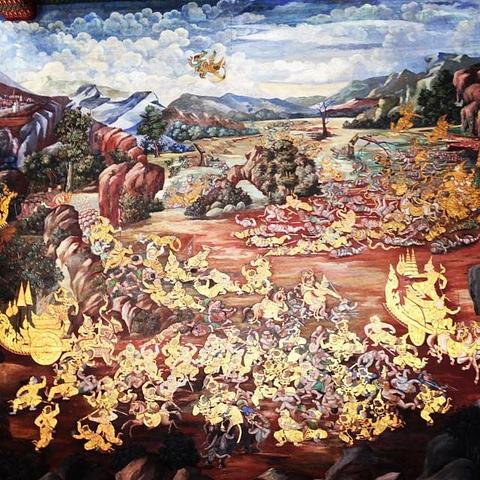 Ramayana: the battle scene between Indarachit vs Laksamana.

After waiting for 47 years, Siam could revenge France by waging war with Vichy France under Marshall Piboon's commanding after a fall of France in 1940, capturing 3 provinces from French-Indochina by the meditated of Japanese empire. Which actually, Japan had her own plan to forward Pan-Asianism throughout Asia, including Thailand. Thailand had deployed her covert plot to counter Japanese empire by establishing an underground Free Thai Movement led by Pridi Banomyong against the Japanese army, another bamboo diplomacy. (Piboon and Pridi were friend to be foe, and reconciled back to be friend again?, they joined hand to stage a coup d'état and turning to Siamese revolution to change the regime from absolute monarchy to constitutional monarchy. Actually, it's a bit sweet-bitter relationship between the two. Very similar to Saigo Takamori and his friend, I can't remember his name, Kawamura Sumiyoshi?) Hence, Thailand could safeguard her status after the war, with help from the American to projecting Thailand as the fortress to defend free world against the communism on Mainland ASEAN, or in another word, the containment strategy by George Kennan. Running Free Thai Movement and restoring political order after World War II could further strengthen Pridi's legitimacy to establish his own cabinet and approaching to the premiership. (While trying to secretly help Piboon from war crimes trial by establishing Thai own war crime bill and set Piboon to be free because the bill had been issued after the crime, and Piboon wouldn't be trial by international tribunal under the principle of "Not twice for the same" or "Non bis in idem".)

Thailand had then triggered her own bamboo diplomacy again by establishing secret channel to Beijing during Marshall Piboon's cabinet. Piboon had taken premiership again after Pridi been ousted by the alliance of the army and the royalist after WW2, by an allegation Pridi as the mastermind behind an assassination of King Ananda. On one hand, Thailand tried to join NAM on Bandung conference in 1951, on the other hand, Thailand with other four founding nations had established ASEAN to replace SEATO (1954 - 1977) in 1967, after the prelude of ASA (1961 - 1967) and MAPHILINDO (1963 - 1967). (SEATO failed to initiate military operation during 1961 - 1962, thus emerging of Rusk-Thanat-Communique instead in March 1962. Britain exercised her influence via Malaysia and Singapore within ASA framework until both countries independence.)
Will bamboo diplomacy, or in modern concept, "complex engagement" [Economic priority: China(1st), Japan (2nd) and the US(3rd); Security priority: US (1st), and 2nd tier: China, Japan, Russia, Australia, and India], (see the implications on this policy from Prof Panithan's interview on the last part of this article https://www.gotoknow.org/posts/592419) be enough in the 21st century to response the rising China and pivot to Asia by the US.? I'm curious we need another option by completing our ASEAN project instead of sticking to only bamboo diplomacy.
Only time will tell, however.