Actually, it's a co-creating process between me and Bloomberg as I'll show the communication between us, and my reply on "mini-research" to Bloomberg.
The report on Bloomberg's Thai Developer 17 Years in Default Still Can't Shake Creditor, it has my opinion on the report as follow:
Companies from Thailand have defaulted on $1.5 billion of U.S. dollar bonds since 1991, or 9 percent of missed obligations by Southeast Asian corporates over that period. They surged to 35 percent of the total in 1997, according to Thai Rating & Information Services data based on the companies it rates. The ratio was as low as 3 percent when global credit markets seized up in 2008. Siam Intelligence Unit said most defaults were company specific.

"Bangkok Land has issued dividends since 2013, in line with some positive cash flows, but its financial position is still weak," Kan Yuenyong, executive director of the local economic think tank, said. Because the company still refers to its debt as being in default, its stock has under performed, reflecting the "discount due to moral hazard risk," he said.


Actually, it's a co-creating process between me and Bloomberg as I'll show the communication between us, and my reply on "mini-research" to Bloomberg. From Bloomberg's information on various default bonds, I've chosen Bangkok Land (BLAND) as the prime case since it has provided enough information to make analysis.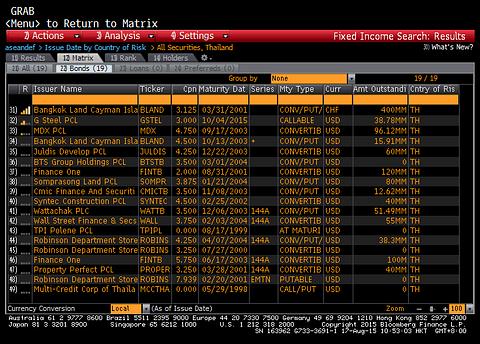 The mini-research has been done as follow:
---
Question:
I wonder if you can help with insights and expertise on this situation (1) why Thai companies defaulted (2) why some are still carrying these legacy debt in their books (3) if they should try to clear those debt as good corporate governance practice and move on....
Answer:
According to Thai rating agency (TRIS), they have been quite low default repayment on corporate bond since 1997. Only some years in 1998, 1999, 2000 and 2008 with low credit rating (BBB, BB, and little amount of A on 2008). Please see figure below (from TRIS Rating).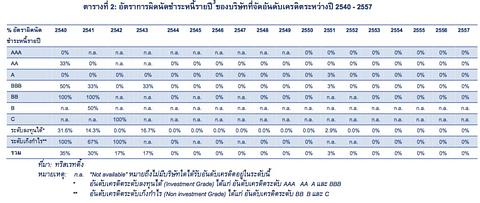 So we assume that there is no macro-fundamental nor systematic problem posting directly effect on overall Thai public companies. Instead we consider this is just individual problem of each company causing from exploiting either "incomplete information" or "moral hazard" in Thai stock market.
From your information, most companies who practice default on corporate bond are those who cannot completely restructure their debt since the Thai financial crises in 1997. Their operating performance still has problem due to the burden of debt restructuring process.
Among of these, we'll take Bangkok Land (BLAND) as prime example. And we will examine its financial and stock information.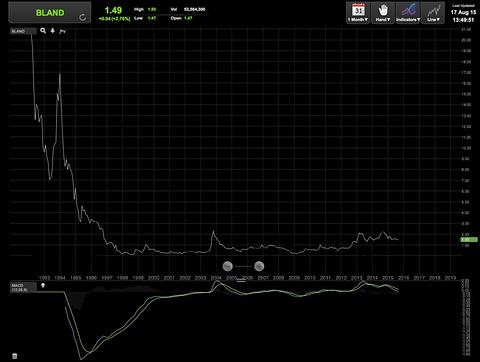 We believe that there is an attempt to push the stock pri ce during 2013 to expect profit from capital gain to company's shareholder. The company has issued the dividend since 2013. This inlines with some positive cashflow of the company. But total financial position is still weak. The stock price has not broken the 2.00 THB ceiling. Although the company posts its unsecured debts in default in its annual report, but we think that the company won't repay these debt to make their financial report looked beautiful and rational for the investing.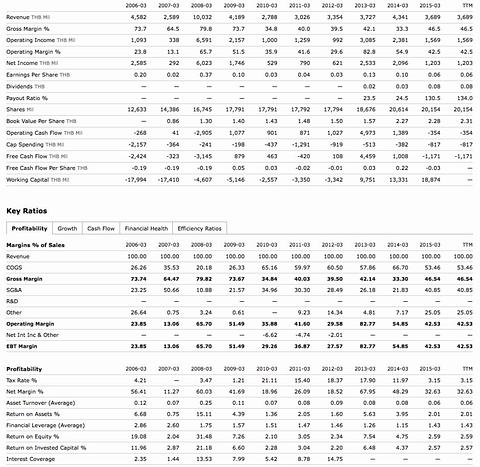 Although some financial analysts tend to overlook this moral hazard risk (see report from Maybank Kim Eng,) or may gives "Corporate Governance rating" in moderate ranking at Level 3 (out of 5), or at score 70-79 out of 100 (see report from TISCO , login required).
Checking from various Thai investment communities, it seems seasoned stock investors can gain informal assessment on such a risk very well and maintain such risk as the discount in the investment in such kind of company who posts such "moral hazard" risk. This probably can be an explanation why Bangkok Land's stock price cannot break the THB 2.00 ceiling.
หมายเลขบันทึก: 593761เขียนเมื่อ 21 สิงหาคม 2015 07:48 น. ()
แก้ไขเมื่อ 21 สิงหาคม 2015 07:48 น. ()
สัญญาอนุญาต: ครีเอทีฟคอมมอนส์แบบ แสดงที่มา-ไม่ใช้เพื่อการค้า-ไม่ดัดแปลง
---
---
ความเห็น (0)
ไม่มีความเห็น