(1) Standard Economy
GDP = C+I+G+(X-M)
Teflon Economy
The kingdom had enjoyed a reputation as "Teflon Thailand" for its enviable record of economic resilience in the face of the last eight years of political upheaval as well as devastating floods in 2011.

http://www.taipeitimes.com/News/biz/archives/2014/...

But the era in which Thailand's economy could withstand any political turbulence, and would continue to attract tourists and foreign investors, appears to be over. Fifteen years of political chaos has distracted Thai policymakers from making important investments in infrastructure or the country's education system, which has never been upgraded to prepare people for a middle-income economy. In particular, Thailand's English classes and information technology classes lag badly behind those of Thailand's regional competitors. A recent article in Singapore's Today notes that "Thailand ranks 55th out of 60 countries on the English Proficiency Index, the world's major ranking of English-language skills. That is the lowest among Southeast Asian countries." This despite the fact that several other countries in Southeast Asia are far poorer than Thailand and have much less resources than Bangkok to help promote English education. As the Association of Southeast Asian Nations moves toward a single market in goods and services, English skills will be even more important for businesses that want to attract regional investment and for workers in a range of industries looking for opportunities throughout ASEAN.

http://www.nationalinterest.org/blog/the-buzz/thai...

Trade pattern ของไทย
(1) มี diversity ของ product มาก ซึ่งจะมีข้อดีคือ เวลาเศรษฐกิจแย่ จะไม่แย่พร้อมกันหมด เศรษฐกิจไทยถึงได้ชื่อว่า Teflon Economy ปัญหาภายในหรือภายนอกทำอันตรายเศรษฐกิจไทยยากมาก ความจริงดีกว่ามาเลเซียอีก เพราะ export content ส่วนหนึ่งซึ่งมีนัยสำคัญของมาเลเซีย จะเป็น น้ำมันกับปิโตรเลียม ซึ่งไม่ค่อยดีเท่าไหร่หาก commodity แย่
(2) ตอนนี้ trade partner หลักจะเป็น จีน กับ อเมริกา (แล้วถ้าไปดู trade pattern ของจีน ก็จะเห็น partner หลักเป็นอเมริกา) ในเอเชียจะมีโครงสร้าง trade partner คล้ายไทย ตีความได้อีกอย่างว่า จีนกำลังกลายเป็นโรงงานประกอบของส่งขายอเมริกา โดยอาศัยวัตถุดิบ สินค้าจากเอเชีย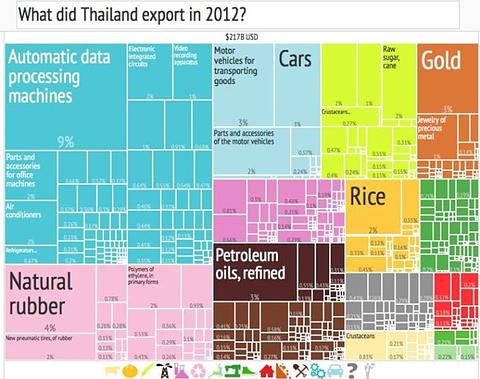 Source: https://atlas.media.mit.edu/en/explore/tree_map/hs...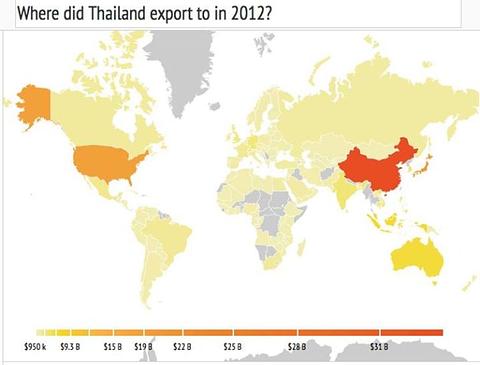 Source: https://atlas.media.mit.edu/en/explore/geo_map/hs/...
(2) Phantom Economy
As long as this country can't produce the world class educational system & industry from our own soil like in either Germany or Japan, importing scholarship from aboard is nothing more than to emphasizing the "self-colonizing" model which centralizes its economic and political power in Bangkok that has been built since King Rama V in 1868.
The economic model has been adjusted into global supply chain led by both Japan and the US in the region after Plaza Accord in 1985. Thai economic model has been transformed from import substitution model into EAEM (East Asia Economic Model) model ever since.
Thailand's phantom economy?
OK. I try to extract information from top 35 companies in Thailand by revenue. (This data had been retrieved in 2008 via ministry of commerce.) PTT of course is the biggest earning revenue company.
The companies which are unlisted in the stock exchange market have been accounted for half of the listed companies. Foreign companies are around 25% out of Thai companies. The US and Japan seem to be the majority here (click at each picture to enlarge)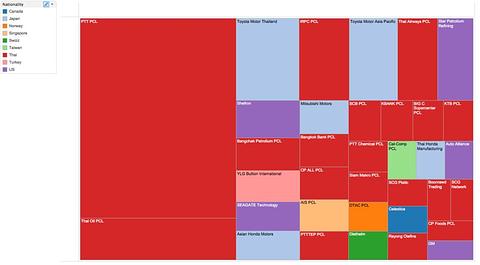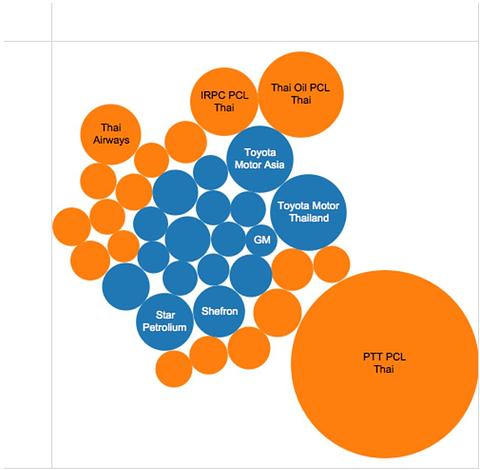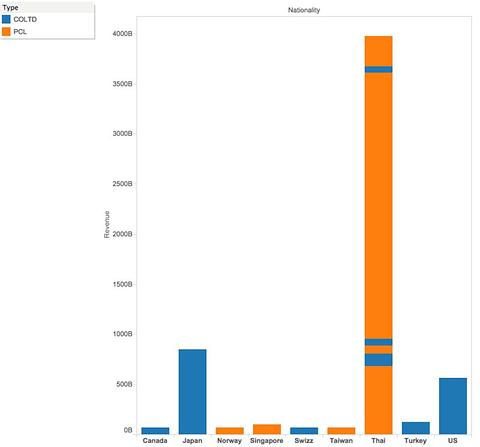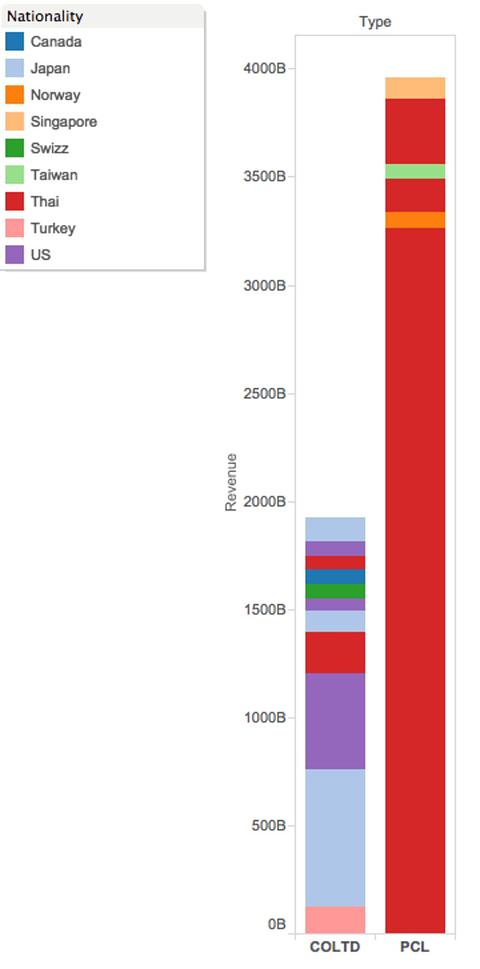 EAEM
Read : European Social Model and East Asian Economic Model – different approach to productivity and competition in economy (english)


(3) Shadow Economy
ASEAN's shadow economy

I'm trying to decode economic strategy of the current government. It seems they are serious on taking down shadow economy. How much is it? For Thailand, it's around more than 50% of GDP. There is no direct measurement on this shadow economy, but an econometric approach. (you can read it here https://openknowledge.worldbank.org/…/109…/3928/WPS5356.pdf… )
The rationalization on taking down this shadow economy is about to reducing the corruption and subsidy scheme. (It's obvious a movement by PDRC to topple the former government.) The problem yet to be existed, on what's the relationship between (1) Standard economy, (2) Phantom economy and (3) Shadow economy. And how do they interact on each other?
It seems this government is betting on reducing corruption, on an expense of short term shrinking of economy. We will see how far this can go.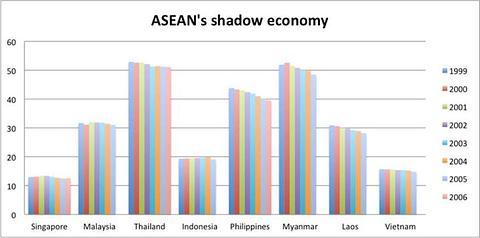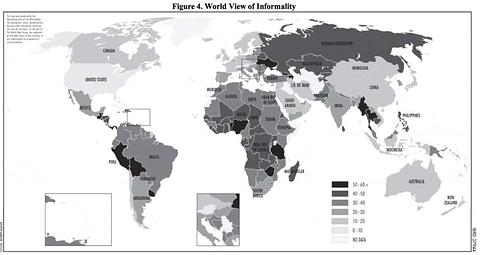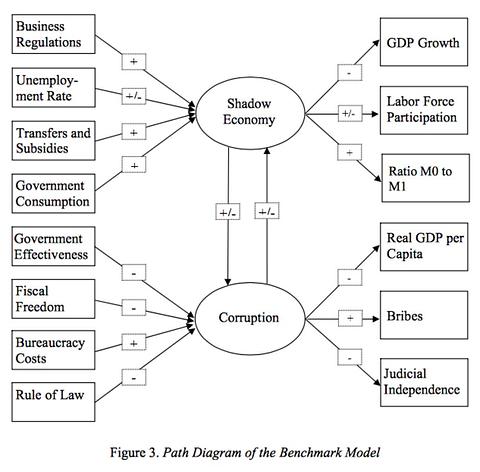 correlation on shadow economy vs corruption perception index (CPI) http://ftp.iza.org/dp4182.pdf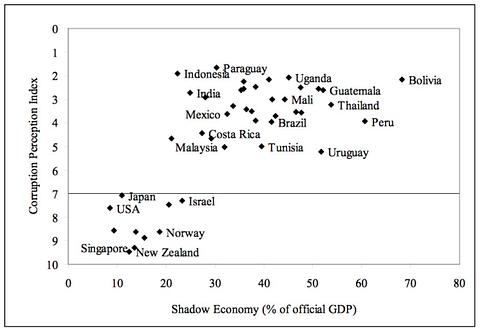 Akira Suehiro on Thailand and Middle Income Trap at Carnegie Endowment
ดูเพิ่มเติม
/END
หมายเลขบันทึก: 594522เขียนเมื่อ 7 กันยายน 2015 16:17 น. ()
แก้ไขเมื่อ 19 กุมภาพันธ์ 2016 07:19 น. ()
สัญญาอนุญาต: ครีเอทีฟคอมมอนส์แบบ แสดงที่มา-ไม่ใช้เพื่อการค้า-ไม่ดัดแปลง
---
---
ความเห็น (0)
ไม่มีความเห็น