LED Display Technology
A brand new and exciting upcoming display projection technology showed up at CES 2006. We found three manufacturers displaying LED-based rear projection TVs. These are TVs that do not use traditional bulbs, but instead substitute LED technology. Akia was showing its new 1080p DLP LED rear projector and the image looked colorful, bright and artifact free, but the reds actually seemed a little too saturated. The claimed advantages of the LED technology are long life from 20,000 up to 50,000 hours. LEDs don't require the use of a color wheel making for a wider color gamut. LED's don't have a warm up cycle, meaning that you have a quick turn on time. Newly developed LEDs are said to have very completive brightness values compared to other competing technologies. The image we viewed was certainly bright enough. Akai indicated that the new PT-52DL27L 52-inch and PT-46DV27L will be available in March and May 2006.
Sanyo is displaying a working prototype LED rear projector that looked beautiful. It boasted a high quality, wide color gamut that exceeded NTSC color values by an average of 120% for red, green and blue - resulting in an exceptionally well-saturated picture (the perception was one of oversaturation at times since we're not used to seeing this much color in a display). Sanyo's display also boasted a "no lamp replacement" policy as the LEDs are good for the life of the display (we're not so sure about that, but we'll certainly follow up on the technology to see). Unfortunately, no one at the Sanyo booth had any additional information about the TV. We'll attempt to follow up with someone after the show for more information.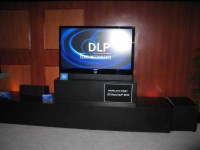 Not to be outdone, Samsung's LED-based 56-inch HL-S5679W DLP television showed up at Texas Instruments' booth where we got a look at it up close and personal. Samsung, in addition to removing the bulb and replacing it with an LED system, also took the time to get rid of the color wheel as well, replacing it with three LEDs - red, green, and blue. Imagine that - no rainbow effect on a single-chip DLP system - someone had their thinking cap on for sure (I vote for a pay raise for that indvidual). Replacing the bulb with an LED-based system gives the HL-S5679W a seven-second power up time. The new LED "Lumit" light engine (formerly "lamp") life is 20,000 hours - a bit lower than I would have thought, but apparently these super bright LEDs have their limits. The new chip featured in this television is 1920 x 1080p and has two 1080p inputs. The HDTV also comes with CableCARD support and ATSC and NTSC tuners. Availability is slated for around April with an MSRP of about $4,200.