This is a quiz that asks for some math thinking and because it is easy to find formulas and examples on the net, anyone who has knowledge of circle and its properties should crunch it in a few minutes. Teachers would find it ;boring', of course having been through 'geometry'(shapes and their properties), Pythagoras theorem, and basic algebra and so on in high school curricula. But we are doing this quiz to learn 'math language' (and English) and how to translate our ideas in to math (expressions) and how to solve the math problem.
OK. Enough introduction. Let's get on to the quiz.
We are asked to 'area' encircled by 3 overlapping circles (see figure below). Each circle has radius of 1 unit length (choose your own length if you have a 'compass' to draw the circles your self).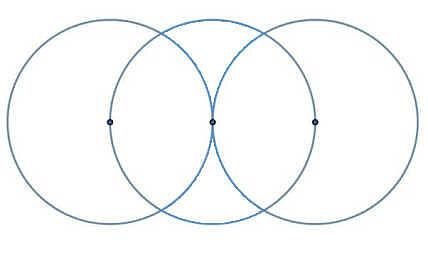 MyNotes
Geometry is concerned with properties of space that are related with distance, shape, size, and relative position of figures. 
geometry n : the pure mathematics of points and lines and curves and surfaces
เรขาคณิต (คณิต) น. คณิตศาสตร์แขนงหนึ่งที่ว่าด้วยการจำแนกประเภท สมบัติ และโครงสร้างของเซตของจุดที่เรียงกันอย่างมีระเบียบตามกฎเกณฑ์ที่กำหนดให้เป็นรูปทรงต่าง ๆ เช่น เส้นตรง วงกลม รูปสามเหลี่ยม ระนาบ รูปกรวย.
เรขา  ก. เขียน. ว. ดังเขียน, งาม. (ป., ส. เรขา ว่า ลาย, เส้น).
เรขา rekhā f. [fr. rikh, for which the Pāli form is likh, cp. Sk. rekhā, Lat. rīma, Ohg. rīga row] line, streak Abhp 539. See lekhā.
เลขา  lekhā (f.) [fr. likh; Vedic lekhā. See also rekhā & lekha] 1. streak, line
     lekhā f.; writing; a letter; an inscription; a line; the art of writing.
gaṇita pp. of gaṇeti; counted. (nt.); arithmetic.
คณิตะ gaNita n. reckoning, calculating, science of computation (comprising arithmetic, algebra, and geometry)
คะณะนา gaṇanā f. counting, i. e. 1. counting up, arithmetic, number; Th คำณวน

See Khan Academy (Geometry) website; Royal Society Th-Th dictionary, Pali Text Society (PTS) dictionary, Pl-En dictionary
ชุดเรขาคณิต กล่องเครื่องมือเรขาคณิต for students ~ THB20 (Alibaba USD0.1-1.0  in 5K-10K+ lot) usually contains 1 ruler or straight edge (about 15 cm long), 1 divider (2 metal spikes/prongs), 1 compass [วงเวียน] (divider with a pencil holder on one prong), a protractor (a half circle shape with degree marks, for measuring angles) , 1 30/60 degree right triangle, 1 45/45 right triangle. Some brands may also contain a short pencil, a rubber/eraser, a pencil sharpener. As we can see that the bulk price for big lot buy is from ~4 baht to 35 baht and parents are charged at 20+ baht. Much the same price parity for workbooks, shoes, socks,… Is it not time parents join up and pool up their resources to equip their children for school? Perhaps, their co-ops can help. Perhaps, school parents associations can be set up to equip school children themselves. Our children's education is supposed to be free but equipping children is always a big problem (financially) for many parents.

point is a location represented by a dot. A point does not have any length, width, shape or size, it only has a position.
π (pi) is a mathematical constant that is the ratio of a circle's circumference to its diameter, approximately equal to 3.14159.
[A solution method added 15/6/2565: 
On inspection we can see that the main problem is the areas (in yellow in the drawing below) between 2 outer circles.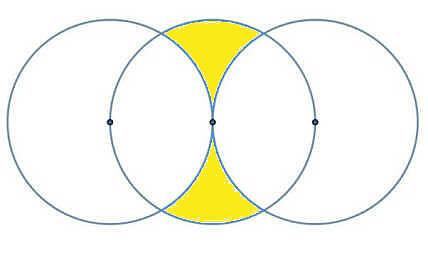 A solution comes from drawing an isosceles or more specifically an equilateral triangle.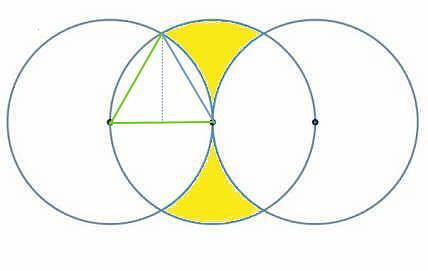 Can we now calculate the area of the equilateral triangle? Can we find the area of the sector which shares 2 sides of the triangle? Can we then work out the area of the segment (part of the circle cut by  a straight line joining 2 points on the circumference)? and from these pieces we can now work out the total area covered by 3 circles as requested. Right?
This is a solution but not the answer. The strategy and reasons applied in each step is a real learning (a discovery or 'eureka' moment). The rest is just 'execution' (acting on facts or data and strategy) to produce 'the answer'.  We all have to learn to think and to act to achieve something and in looking for a solution we learn and become better problem solver. ]