คุณ Pertti Rapo ได้เล่าเรื่องการเปลี่ยนแปลง lifestyle ของตนเอง ทำให้น้ำหนักตัวลดลงและภาวะไขมันในเลือดดีขึ้น บันทึกในบล็อกนี้เมื่อเดือนวันที่ ๒ ธันวาคม ๒๕๔๘ (อ่าน Changing Lifestyle 1 และ 2) คุณ Pertti บอกว่าได้ link บันทึกดังกล่าวส่งไปให้เพื่อนๆ อ่านด้วย
มาปีนี้คุณ Pertti ส่งข่าวคราวความคืบหน้าของตนเองให้นำมาเผยแพร่อีก เชิญติดตามได้ค่ะ
วัลลา ตันตโยทัย วันที่ ๖ ตุลาคม ๒๕๔๙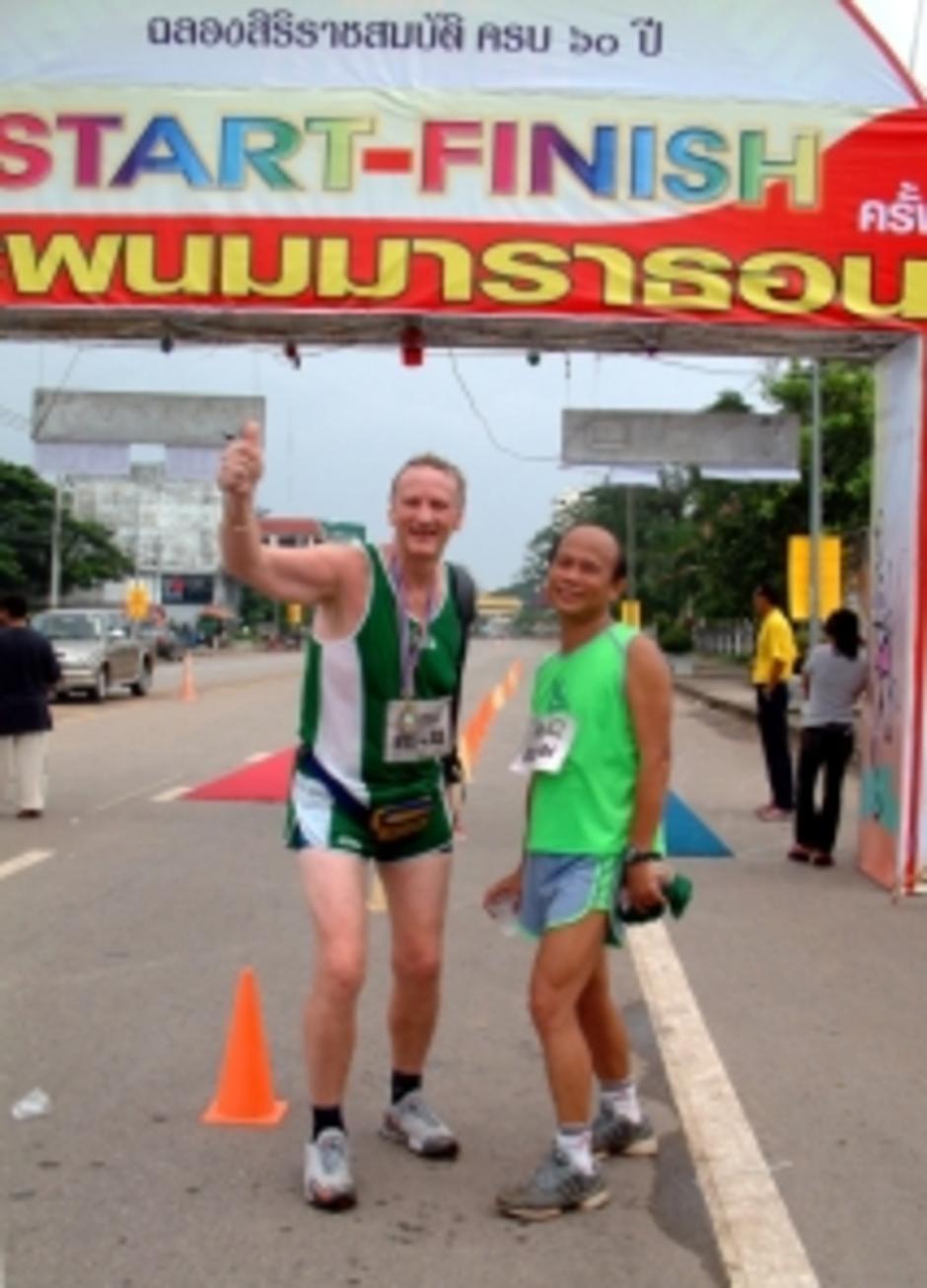 Running Addiction
I do not know why, but this running has really become an addiction to me! It is both, all those people I meet in the running events, and the very nice feeling that comes from running that makes the big thing. They also speak about the runner' high, or that great feeling that comes after a certain running effort.
As I was writing about one year ago on Dr. Valla's Blog, I have been changing my lifestyle from a round (123 Kg) and stressed person into a much more active and lighter weight (85 Kg) runner. Since last year, I have upgraded my running style form mainly 10 km running into half and lately also full marathon running. This year only (in addition to my daily workout of about 10 km), I have made 17 half marathon, two "super half "marathon (25 and 30 km) and, during the last two month 3 full marathon events and some 10 or so 10 km events. Thailand is a real runners paradise with at least one event every Sunday morning!
Another thing that I have gained during this year is that I have a lot of new friends out there (many of these friends are long time runners and older than me – last sunday the oldest runner was 87 year old experienced guy)! It is a real pleasure to meet with all those different people, coming from different regions and exchanging some thoughts and jokes with many of them. Sometimes we get to a remote event all together in a bus and have nice Karaoke sessions during the trip. It is quite cost effective way of combining entertainment and traveling together. As an additional goodie, I also have learned a lot more Thai which makes everything even more enjoyable! I start to feel becoming a kind of Thai myself!
Social Mix
The running events gather a very interesting mix of people. Old, young, coming from different regions, managerial people, bankers, sales & marketing people, doctors, directors and just ordinary Thai people, men and women – all in very good harmony together enjoying this healthy lifestyle.
While running, we often exchange some thoughts about "why running". Some people are genuine sportsmen and women and others have had some medical challenges and some just wanted to find another way of sanook!
I never made any sports in my life until I was 51 or so. Then the 123 kg started to feel and show on me. While discussing with runners, I have heard very similar stories from many of them. Mainly, people have had cholesterol, blood pressure or sugar level issues and have started running to get better. And the results show quite rapidly – in just a few months time.
Gilaa Giilaa Yaa Piseet!
The best part of the medical side of the story is that while the above mentioned very common troubles are getting noticeably resolved without any medication, also other troubles are put aside. Last Sunday, I was running full marathon in Nakhon Panom and while discussing with a 127 marathon runner veteran from Songkla, he told that just anything can be cured by running.
– If I have a head ache or a cold feeling or whatever, I just go out and running and it is away! – I have not seen a doctor in 15 years, he told proudly (sorry doctors, business going down for you as we run!)
While running the last 10 kilometer in Nakhon Panom, one of the supporting advertising cars was following ma and 3 other runners constantly commenting on our progress, while drinking water, eating watermelon etc. I could not stop myself going to talk to the driver, taking his microphone in my hand and announcing my sincere thanks as the only farang in this event today for all the people in Nakhon Panom.
The driver got so exited about this that, he repeated every two hundred meters, that we are today having this foreign runner coming from Finland with us and who is very thankfull to all supporters in Nakhon Panom. Well, I became a little celebrity during this trip. During a few pauses in commenting into the microphone, the driver put the Issan style song "giilaa, giilaa, bpen yaa piseet" in the speakers. I understood how true this message was – Sports, especially running is a very special medication and cure to many medical conditions!
(Saowaluck, who was expecting me to come after about 5,5 hours to the finish line, was about to get a schock while listening the announcements from the car and realizing that I am just arriving and that I had improved my previous timing from 5,5 or 6 hours to less than 5 hours today!)
The Nakhon Panom was also the first time out of these 3 full marathons during the past 2 months, that I did not have pain in my left angle. I think that I have now also got that problem fixed by running. I have used some supports in my shoes to help my angles and knees a little to smoothen out the heavy impact during the run. This time I was also testing out some "gel insoles" which makes the impact event easier to handle.
During the summer, while having increased radically my running kilometers (many half marathons), my weight was suddenly increasing a couple kilos (gaining kilos is extremely easy for me!). I was thinking that having upgraded my mainly 10km events to 21 km half marathons would allow me to enjoy more of the "gatii saut" ice cream and some chicken, but no way! I cannot allow myself any big freedom when it comes to fat or sweet food. I can only eat one big portion of ice cream the Sunday after the run if I do not eat anything fat. But this is fine to me – I can handle it!
I will make a full medical check up after this coming end of November Bangkok Marathon. I have managed to get my weight under control again (84kg/183cm) and I hope I can then report at least some improvement in my blood values.
Sawaddee crub!
Pertti
P.S. In the picture, I just finished the full Marathon run in Nakhon Panom. The other gentleman is my runner friend Khun Watin from Kasikorn Bank Running Team. Also he has resolved his cholesterol issues by just running (7 years already).

บันทึกนี้เขียนที่ GotoKnow โดย วัลลา ตันตโยทัย ใน DM KM Facilitator