==วัฏจักรของน้ำ
It is not a surprise that in time of floods, people look up and ask why. It is not a surprise that any 10 year old kid and answer that. And they can also tell us about 'Water Cycle' (Hydrological Cycle, วัฏจักรของน้ำ) in some versions (learned from the Internet or in class). Let's remind ourselves again with a picture and some links … ;-)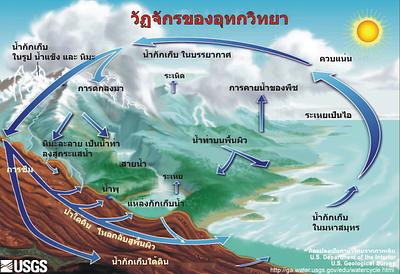 Some notable links: Water Cycle https://climatekids.nasa.gov/water-cycle/ 
 https://www.natgeokids.com/au/discover/science/nature/water-cycle/ 
 https://www.britannica.com/science/water-cycle  
https://water.usgs.gov/edu/watercycle-kids-adv.html 
https://www.noaa.gov/education/resource-collections/freshwater/water-cycle 
We can of course see clearly how floods come to be and blame mostly the government for not doing enough to prevent floods. Even though, we know that water cycles can be 'local' (think 'endemic') and/or  'global' (think 'pandemic'). To learn more about Water Cycle, we need to ask more questions. Questions like those posed in  https://phys.org/news/2022-04-global-relevant-climatic-consequences.html (about  salinity of water and temperature of water - from the Sun and environment). Questions on layers of atmosphere above the surface of Earth (how high do water vapour masses or clouds go, how temperature and pressure vary with height and some 'definition terms' like 'altitude', hectoPascal unit [hPa], …). Most of us would say 'we should leave these sort of things to the weatherman'. We only need to know if it is going to rain (a lot) and if there will be floods – right? I think we have bad news. The weather forecast is not 'that' accurate (calculated not actual - even with help of past record, radar mapping and satellite images), not specific to place and time, and only with the best theories (technologies and computational hardware and methods) we have. The weather is still more complex and more to learn. No I am not going to spoil your fun of research or fun from questioning.
Please think about this: Your best question is usually the question only you can answer.
Let me just add some notes.
some weather data websites