Prakru Kanlayananuwat (Laungphoo Lao Kanlayano)
Prakru Kanlayananuwat is an Abbot at Watpasawankhongkha Bannongkhangkha, Nongkungkaew Subdistrict, Sibunrueang district, Nongbualamphu Province. Prakru Kanlayananuwat was born on May 8, 1941 at Tha-si-sa-ard village, Ban Khok Subdistrict, Phuwiang District, Khonkaen Province.  His mother's name is Mrs. Tee and his father's name is Mr. Hai.  He is the fourth child of eleven siblings! He has three brothers and eight sisters! From when he finished primary school up until he was 23 years old Prakru helped his parents work their farm. He fed the animals, grew rice, and vegetables.
  On May 19, 1964 at the Sawankhongkha Temple, Vathong Subdistrict, Phuwiang District, Khonkhaen Province; he was ordained to be a monk. His Preceptor (The monk who was on the middle who was chanting during the ordination ceremony)was Prakhu Phichit Sutthitham. The monk who was on the right side who was chanting during the ordination ceremony was Phra Bunchan Phabhakaro. The monk who was on the left side who was chanting during the ordination ceremony was Phra Suwan Phatthajaro. After  his ordination, he studied Dhamma with his teacher, Prakhu Phichit Sutthitham, at Sawankhongkha Temple for one year.
 In 1965, His parents gave the land to build a temple at Bannongkhangkha village, Nongkungkhaew Subdistrict, Sibunrueang District, Nongbualamphu Province. One year later the temple was finished building. From 1966 until now he has been an Abbot at Watpasawankhongkha Temple.  His passion and love for Watpasawankhongkha resulted in him devoting a lot of his time in making many improvements to the Temple. Multiple buildings surrounding the structure for more prayer and comfortable living corridors for the other monks to come.  From 1966-1988 years many young men were ordained under him and studied Dhamma with him. The energy of the temple was so vibrant many people would come and make donations. Praku never stopped teaching monks about Dhamma and always continued his own personal studies. Monks and novices from all over came to learn from him.
In 1994 he left Watpasawankhongkha to go to Universtiy in Loie Province. He would often return and stay at Watpasawankhongkha because no other monk stayed there during his next venture.  While he stayed at Watsrisuthawat Temple in Muang Loie city he was also a famous monk there. He had many students and people who came to study Dhamma with him.  His fourth year at University he practiced teaching English at the Foundation School of Laungphusrijanwannapho. After he graduated, he went back to stay at Watphasawankhongkha. At that time, he also was a Parish priest of Thachangklong Subdistrict, Phakhao District, Loie Province.
 In 1994, he was appointed a Parish priest, at the highest rank "Chan-Eke'' to take care of all Temples in Thachangklong Subdistrict, Phakhao District, Loie Province. While he was a Parish priest there were many people who came to ordination with him. In 2002, he built a church at Watphasawankhongkha. The community held a 7 days celebration March 3rd- 9th. People made image of him which now are purchased to symbolize protection.
Due to old age, in 2007 he resigned from being a Parish priest at Thachanglong Subdistrict. Today, at 79 years old you can visit him at Watphasawankhongka Temple where he still is an active Abbot.
This man has dedicated his life to a well rounded routine. For example every day since he was first ordained he would go into the forest to meditate at 8 p.m-5 a.m. He would then return to the temple to do morning chanting and then go into the village to receive food. Once he returns from his village duties he would mediate again until people arrived at the temple. 11 a.m is his lunch. 12 p.m to 6 p.m he does meditation in his room. When he finishes doing meditation he goes to church for doing evening chanting. This has been his routine everyday since he was ordained.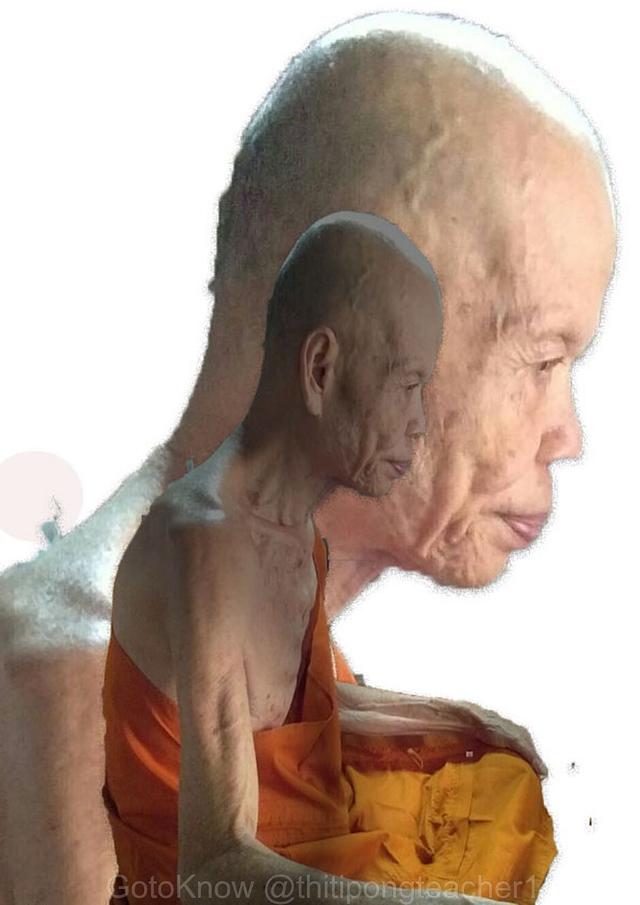 Unfortunately in 2010 he became ill. He lost mobility in his legs and he was going blind. A stubborn but humble man he would never go to the hospital to see a doctor. He only would use herbal local medicine from trees and vegetables.  He did this herbal treatment for nine years until he lost all mobility in his legs and people made him go to the hospital to receive proper treatment. He was released from the hospital after a week and he returned to his home, the Temple.
  I wrote this story today because I feel the world needs to hear good stories these days. 79 years of patience and dedication to accomplish a dream. Everyone is welcome. I am his cousin so I tell this story from my eyes and others who watched him on his journey. I even was a monk that followed him.  There is obviously much more to his story than what I have written so if you are planning on traveling through Thailand and happen to pass by the Watpasawankhongka Temple, don't be afraid to go in and worship and ask about my dear cousin Prakru Kanlayananuwat.
Thank you!