It looks like the world weather has no bias. States in Australia are also flooded. Prices of fruits and vegetables are rising (due to difficulties to harvest and transport) as quick as the flood water. People are saying this is a result of 'climate change'. Some people say we have 'no evidence' to blame people activities leading change in weather patterns. Whichever side you are on, weather events (rains, snows, high/low pressures. … leading to floods, droughts, storms,..) are real and affecting millions of people around the world. Though the effects are not uniform distributed – that is the weather events are 'lumpy' - more in places and less in other places.
But weather events can be detected, tracked/followed, analyzed and  their future predicted - with modern tools and technologies such as weather radars, imaging satellites, weather (mathematical) models, geological imaging systems (GIS), super-computers (allowing calculations in more localized details), co-operation of meteorological organizations (sharing of data and calculating power on their tools),…
But do these advances translate into benefits for the people 'en mass'? More specifically, the people who live in areas where severe and damaging weather events are 'predicted to take place'? Radio, television, Internet, mobile phone, newspaper and local communication can be used to issue warning/alert to people in various circumstances An example of an SMS TEXT alert (below) that every phone reachable by mobile phone towers (in the affected area) gets.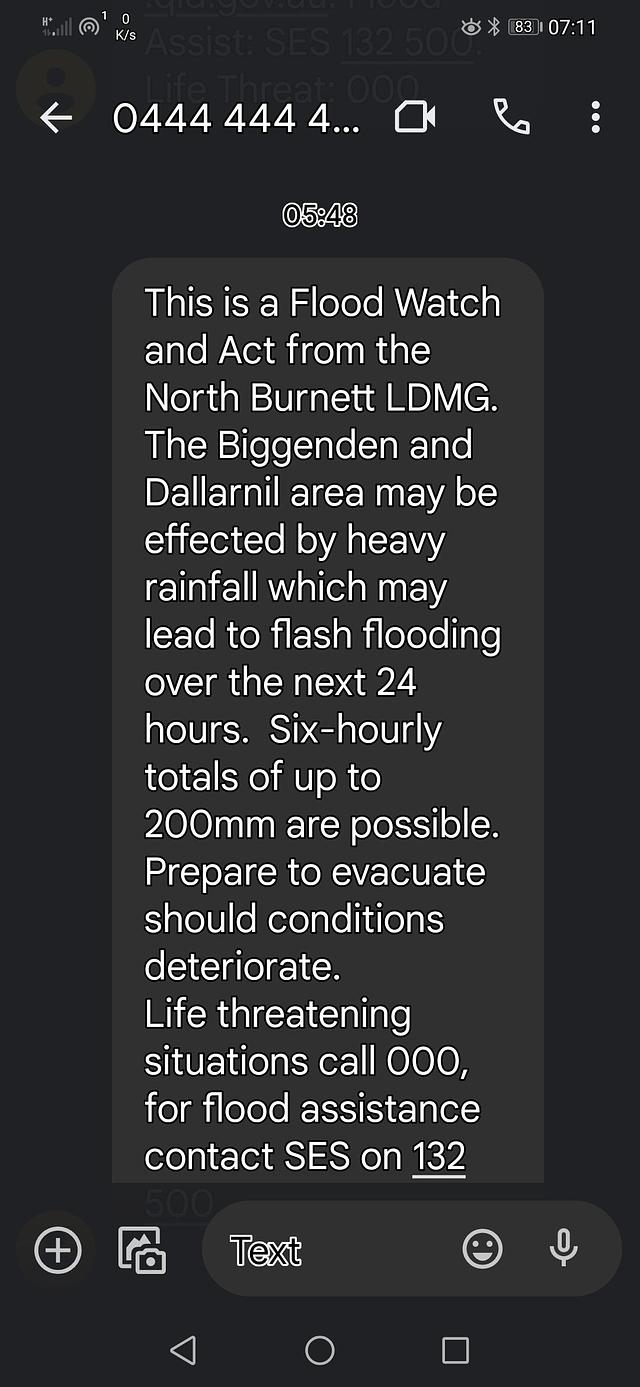 Yes. I can confirm that 'battery operated radio' is included in the 'survival' kit along with basic medical aid items and (if needed) prescription medicine, battery operated torch, drinking water and 'snacks'. A new item to be added is a fully charged 'mobile phone power bank' - main/grid power supply can be out for days. Use of main power and main power appliances, such as electric water pumps, vacuum cleaners or electric leaf blowers, is not recommended in flood situations. Switching off the main power at the meter box is recommended. 
No. Instant noodles are not yet included in the official recommended list. But you can add any essential you deem fit to the recommended list. --Meet the minimum then add extras!