I've found Geacron project to illustrate "territorial" map / border / sphere of influence / "Mandala" in the world from 3000 BC to nowadays.

Update: This is how modernity affects the history (Google Cultural Institute with British Museum)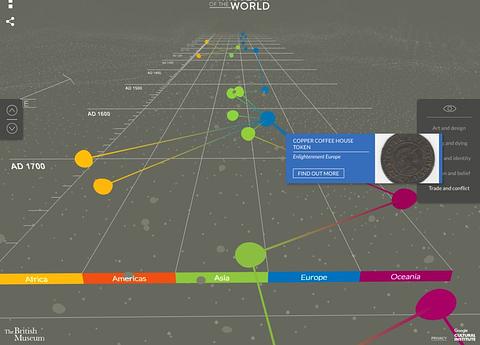 (1) 3000 BC (The birth of early civilization: Egypt, Minoan, and Sumer, using agricultural technology)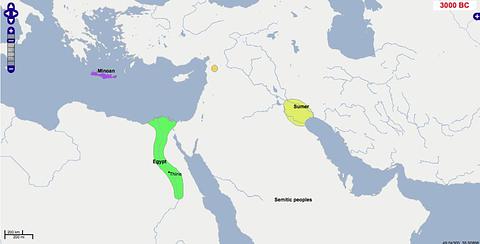 (2) 1900 BC (The Birth of civilization in India: Indus valley, Tigris–Euphrates river: Isin and Elam, and China: Xia)
(3) 1490 BC (Emerging of Hittites, Babylonia, Indo-Aryan, and Shang)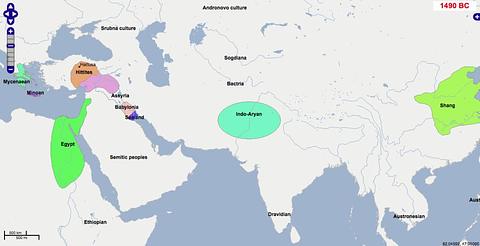 (4) 0460 BC (Persian Empire, and The Spring and Autumn period in China)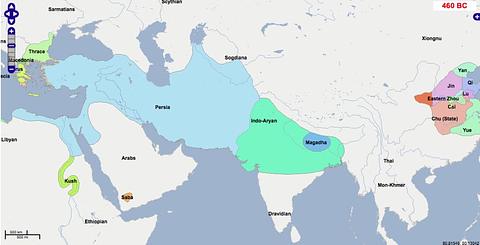 (5) 0260 BC (Seleucid Empire or Greece or Alexandre the great, Maurya dynasty in India, and the warring states period in China)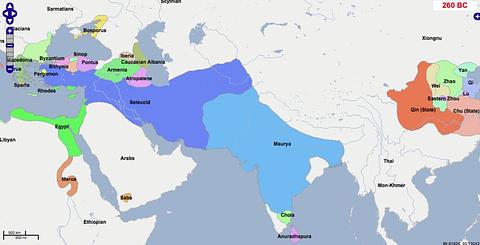 (6) AD 0140 (The Roman Empire)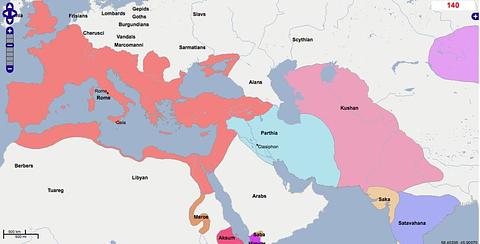 (7) AD 0440 (The Western and Eastern Roman Empire)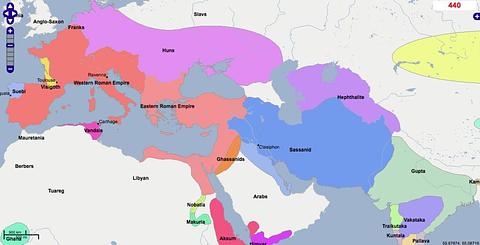 (8) AD 0740 (The Byzantium, The Umayyad Caliphate, Charlemagne, dark-age)
(9) AD 1140 (The crusade, The prelude of Hundred years' war -- in AD 1337 - 1453)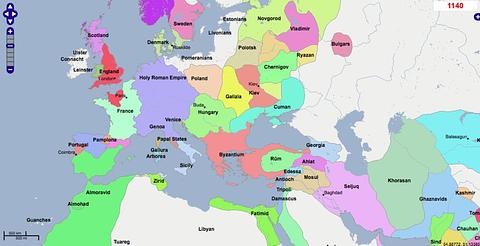 (10) AD 1295 (The silk route, after the peak of Mongol Empire in AD 1250)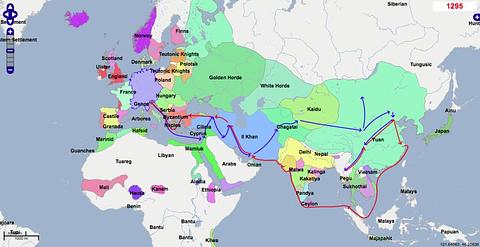 (11) AD 1503 (Atlantic power to develop frigate technology and the starting of sea lanes - silk/spices route)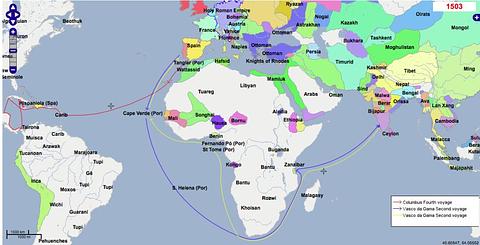 Read Portuguese colonization in South East Asia (in Thai) http://www.tri.chula.ac.th/triresearch/malau/malau... and http://haab.catholic.or.th/history/history01/protu...
(12) AD 1540 (Ottoman empire to consolidate Mediterranean)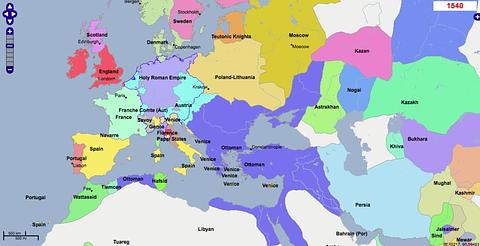 (13) AD 1776 (Britain and Spain to colonize in America, Russia to secure far-east/Syberia)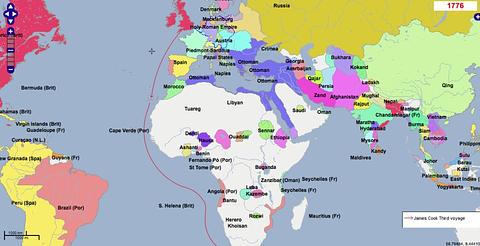 (14) AD 1812 (Napoleonic era / consequences of French Revolution)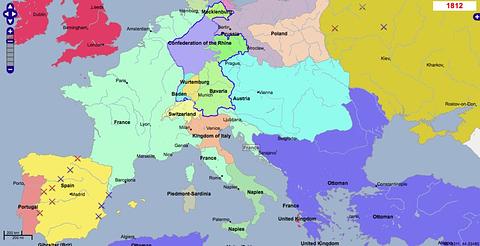 (15) AD 1836 (Birth of the USA and Britain moving to India and Middle-east.) First voyage around the world.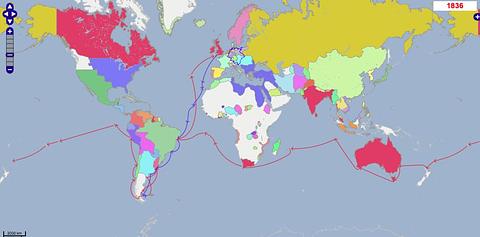 (16) AD 1867 (Prussia consolidated North German Confederation, Austrian power declined)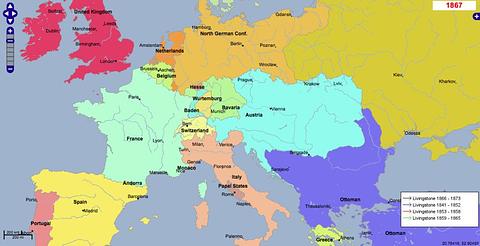 (17) AD 1872 (Germany consolidated power; starting of the struggle of the central European power over the Atlantic power)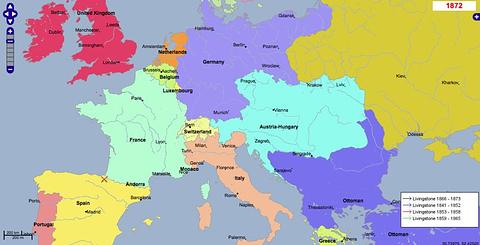 (18) AD 1893 (Britain to capture Egypt/Burma/Malaya/Australia, the rising of German power)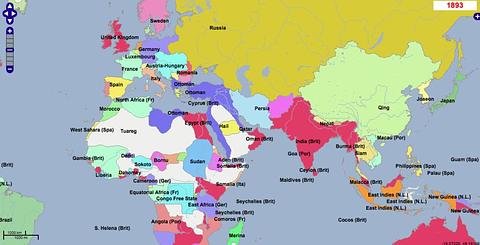 (19) AD 1943 (The peak of World War 2 / Germany seized France / Anglo-Soviet Invasion of Iran / Japan occupied Southeast Asia)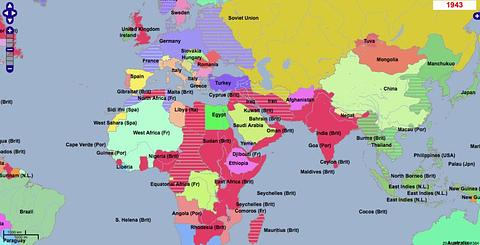 (20) AD 1948 (Ending of World War 2 and the starting of Cold-war era)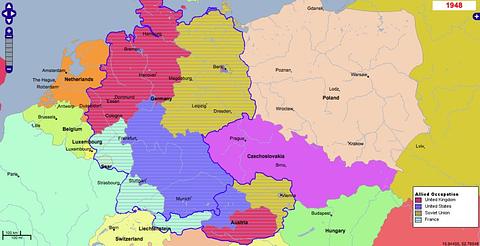 (21) AD 1991 (Ending of Cold-war era, emerging of new European landscape)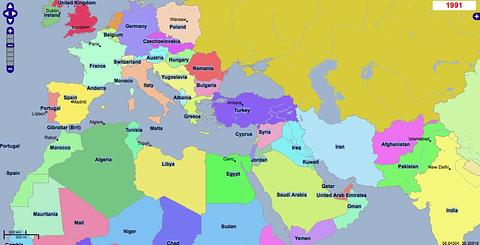 (22) AD 1992 (Collapse of Soviet Union and the birth of Post-Soviet Central Asia)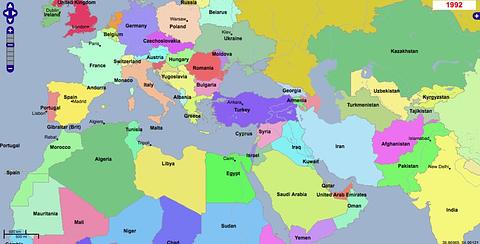 End./
You can watch World History (3000 BC - AD 2013) in 4 minutes videoclip below:
หมายเลขบันทึก: 594168เขียนเมื่อ 31 สิงหาคม 2015 11:44 น. ()
แก้ไขเมื่อ 21 มกราคม 2016 10:35 น. ()
สัญญาอนุญาต: ครีเอทีฟคอมมอนส์แบบ แสดงที่มา-ไม่ใช้เพื่อการค้า-ไม่ดัดแปลง
---
---
ความเห็น (0)
ไม่มีความเห็น