Working with Female Offenders in Bringing the Philosophy of Sufficiency Economy to Life after Prison
Mr. Nathee Chitsawang
Introduction
Apart from inspiring and helping female inmates in prison to receive the better care and treatment for themselves and their babies, to have good health and hygiene, to get higher education and vocational training and to give the inmates great inspiration for changing their behaviors and attitudes towards offending, another apparent benefit of Kamlangjai Project initiated  by HRH Bajrakitiyabha also includes the pre-release program preparing the offenders to return to live peacefully in the society. In other words, the Kamlangjai project attempts to narrow the gap between prison and community life so that prisoners can gradually readjust to their normal lives outside the materially deprived settings more effectively. By doing so, the re-entry program is provided in the open prisons whose environment appears almost similar to the external society.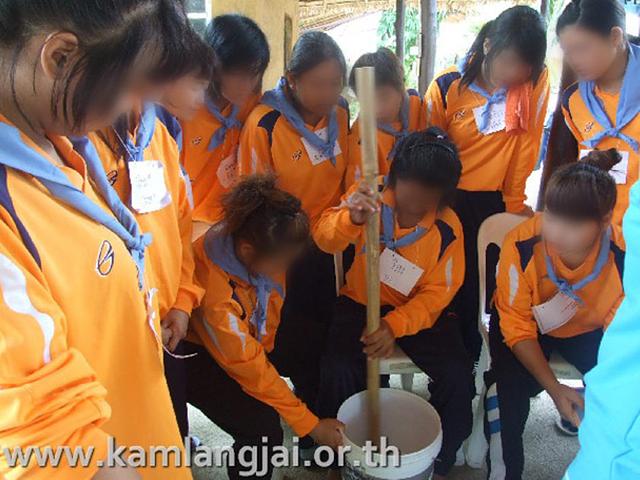 It is believed that this is an innovative initiative in terms of the fact that most pre-release programs in the past seemed to be carried out in closed prisons where have a secure perimeter and protected environment, while Kamlangjai Project, on the contrary, focuses on the treatment of prison inmates in open prisons by providing them with a training program based on the 'Sufficiency Economy' philosophy which teaches them a new way of thinking as well as vocational training in particular agricultural skills in order to finally result in a total reduction in recidivism of inmates.  
Generally speaking, the first impact of the Kamlangjai project is an improvement in prisoners' attitudes and their ability to become self-sufficient. To put it simply, prisoners can realize that they shall not wait for assistance from other people but they must try to stand on their own two feet. In addition, the prisoners are able to apply what they have learned to daily activities such as making life plans, balancing income and expenditure, cutting excessive spending, reducing costs by producing home-grown products, and planning for the future. On top of that, the Kamlangjai project arranges group sessions among prisoners in which they develop coaching strategies and share opinions and experiences. This helps them to gain a deeper understanding of a 'self-sufficient' way of life.  This shift in thinking is the real achievement of the Kamlangjai project because it is this way of thinking which can actually help them after release. Wherever they go and in whatever job they do, they will be better prepared to handle situations and make better decisions.     
What is 'Sufficiency Economy' Philosophy?
The 'Sufficiency Economy' philosophy was initiated by His Majesty King Bhumibol Adulyadej in 1973 according to his belief that by holding this philosophy, Thai people could develop a more balanced way of living. Later when Thailand faced the economic crisis of 1997 the country needed to maintain stability and be more self-reliant, so His Majesty reaffirmed and expanded on the 'Sufficiency Economy' as the way to recovery that would lead to a more resilient and sustainable economy (Krongkaew, 2003).
The core principle of the philosophy is based on the 'Middle Path' between the local level economy and the global free market economy. The philosophy can be applied at the individual level, family level, community level, and national level. It can also be applied in business organizations or on a global scale. By focusing on a balanced approach, the country can be modernized without rejecting globalization through such factors as maintaining adequate population, using technology properly, and preserving the fertility of eco-systems.  The country can survive without the necessity of intervention from external organizations during times of swiftly changing economic or cultural transitions. Application of this concept can enable people to live peacefully and harmoniously within a secure and sustainable social fabric. The principles of 'Sufficiency Economy' are now commonly referred to in many governmental policies and projects (NESDB, 2004).
The 'Sufficiency Economy' philosophy comprises three principles and two underlying conditions which are:
Moderation
Rationality  
Self-immunity system
Moreover, 'Knowledge' and 'Morality' are two necessary underlying conditions to achieve the three abovementioned principles. The knowledge condition requires systematic study of all available information and experiences for planning and prudent decision making. The moral/ethical condition stresses integrity, trustworthiness, honesty and diligence of individuals, while living their lives with perseverance, harmlessness, and generosity (Piboolsravut, 2004). 
Practical Implementation of Sufficiency Economy Philosophy in Open Prisons
In brief, the Kamlangjai Project draws upon the three significant core elements of the Sufficiency Economy Philosophy, together with the concepts of self-reliance, sense of virtue, horticulture therapy, and ecotherapy. In practice, there are five main processes involved in the changing and improving ways of thinking of prisoners based on all abovementioned concepts as follows:
Changing attitudes and ways of thinking

Learning about self-reliance

Applying what they have learned to their own situations

Planning for their family and their future life: at this stage, the prisoner makes plans to produce a variety of items for use within their household and learns to rely on their family and the results of their own work.

Developing positive relationships between themselves and their community: the inmates learn to share and to be considerate to neighbors and society.
The current pilot project usually starts during the 'pre-release' phase of prison inmates which lasts about a year before their release.  In the first several months, inmates attend variety of classroom-based activities designed to provide the inmates with knowledge and skills according to their interests. Then for the rest nine months, there is a 'practicing' period when the inmates will be responsible for designated tasks which they have to apply what they have learned during the first period in order to complete such tasks. This is a 'learning by doing' technique which Kamlangjai uses to support inmates.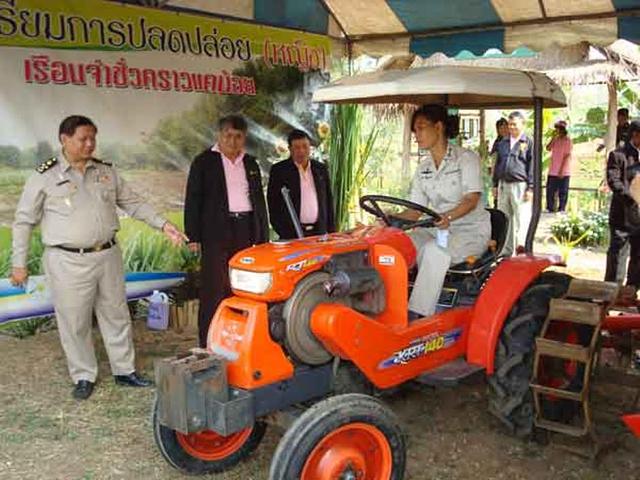 As for the instructors of the programs, they are composed of specialists and gurus from various fields, namely 'self-sufficient philosophy' and agricultural experts, wise community leaders, some university scholars, a group of staff from Ministry of Justice and Ministry of Agricultural and Cooperatives. In fact, there is a possibility that in the near future the former inmates participating in the program and becoming successful after release can also join a team of instructors as well.
Concerning the recruitment of participating inmates, any inmates who are eligible and qualified can apply for the program on their own consent. The requirements for participants consist of these following qualifications; (1) Voluntary inmate (2) Convicted prisoner, categorized in one of these classes: 'Good', 'Very good' and 'Excellent' (3) First-time offender (4) Has already served at least ¼ of his/her sentence term (5) Less than 5 years of remaining time in prison (6) Eligible for parole (7) Physically and mentally fit (8) Good behavior prisoners without poor disciplinary record
The prison committee of the open prisons will carefully select inmates who are qualified on the ground of their willingness to participate in the program. Then, the selected inmates will be asked to fill in the application form and interviewed by the committee. When the final decision is made, the qualified inmates will be moved to participate in the program at one of four open prisons: Khao Rakam Open Prison, Doi Rang Open Prison, Khao Plong Open Prison and Khae Noi Open Prison. They are all pilot sites of Kamlangjai Project in rural areas enabling inmates to live closely and harmoniously with the nature and facilitating the application of horticulture as well as eco-therapy as approaches to inmate rehabilitation process.
An Example: Khae Noi Open Prison, Phetchabun Province
Among all four open prisons, Khae Noi is the only open prison for female inmates. It is situated in Phetchabun province in the lower northern part of Thailand. The landscape of the site is a combination of plain land and mountains. Each year there are about 100 qualified female offenders from every region of the country participating in the Kamlangjai Project at Khae Noi Open Prison. Some of them may have agricultural knowledge and background whereas others formerly worked in industrial sector in an urban area before being sent to prison.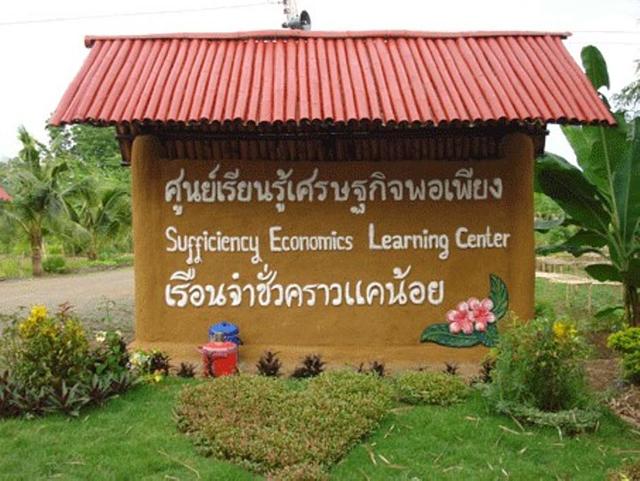 As discussed in the previous part that there are basically five major processes in order to sustainably change female inmates' way of life towards a balanced and self-sufficient basis and prevent them from re-offending, at Khae Noi Open Prison all five processes can be described in detail as follows:
1) Changing Attitudes and Ways of Thinking
It is argued that the female offenders are able to learn about sufficiency economy philosophy through both theoretical and practical approaches in order to apply this concept to their new lives during post-release period. By assimilating the sufficiency economy philosophy which is based on moderation, reasonableness and self-immunity, as well as the morale and ethics education such as religious study and its application, the behaviors and attitudes of female offenders can be changed in a more positive way.
2) Learning of self-reliance
In order to train the female inmates to be self-reliant, the participants are distributed and allocated some parts of land in Khae Noi Open Prison to do agriculture and cultivate plants of their own planning according to their preference and personal skills. Because of this, the female prisoners will be able to effectively solve all personal problems emerging into their lives. Moreover, they are taught to be economical persons by giving them the lesson on how to make household expenditure and income worksheet which help the inmates to realize the true value of money and have a simple life.
3) Applying knowledge into practice
Agricultural skills and knowledge are taught at different zones called 'Learning Stations'. Many lessons are offered to the female inmates such as brick making, brick-house building, biogas and biodiesel production, pig and fog breeding, hygienic vegetable planting, liquid soap and shampoo production, free-range farming, smoked orange cider vinegar production, and so on. At this stage, the inmates are rotated to receive all different module trainings. It is worth mentioning that at Khae Noi Open Prison, the female offenders are especially encouraged to do silk worm breeding and are offered a lesson on weaving since this establishment is close to a center of weaving business in Thailand.
4)  Developing self-sufficient life and making household plan
At Khae Noi Open Prison, many activities and lessons fostering the female inmates to be self-sufficient are provided, i.e. food preservation skills, effective ways to reduce household expenditures by producing home-made products and growing vegetables, etc. Besides, they can learn how to conserve the environment and energy, as well as to make best use of recycled materials and reused leftovers. By doing so, the female inmates can make plans to produce many types of items for use and consume within their household.
5)  Developing relationship among inmates and promoting community participation
The female inmates are encouraged to share and discuss their own experiences, especially challenges and difficulties in a small group discussion session with other participants. Also, they are given opportunities to express their ideas through community stage and have a study tour outside the facility. In case of Khae Noi Open prison, the female inmates are offered a visit to weaving business center of Kamnan Chul Farm, one of the famous and successful farm businesses in Phetchabun province.
To sum up, the Kamlangjai Project initiated by HRH Bajrakitiyabha does not only provide the inmates with all beneficial programs during their time in closed prisons, but also cover the pre-release phase in the open correctional facilities when the prison inmates are preparing themselves to return to live in wider society. With the 'Sufficiency Economy' philosophy given to the inmates, it is believed that the prisoners shall be able to be self-reliant and sustainably change their behaviors as well as their attitudes to well survive on lives after release, decreasing a chance to reoffend or to start their lives behind bars again.
************************************
References
Krongkaew, M. (2003) The Philosophy of Sufficiency Economy, Kyoto Review, Kyoto.
National Economic and Social Development Board (NESDB). (2004) Q & A about Sufficiency Economy Philosophy, Thailand: NESDB.
Piboolsravut, P. (2004) 'Sufficiency Economy', ASEAN Economic Bulletin, 21(1): 127-134.
หมายเหตุ ภาพประกอบจากอินเตอร์เน็ต
แก้ไขเมื่อ 9 สิงหาคม 2012 11:21 น. ()สัญญาอนุญาต: ครีเอทีฟคอมมอนส์แบบ แสดงที่มา-ไม่ใช้เพื่อการค้า-อนุญาตแบบเดียวกัน
---
---
ความเห็น (4)
ปรัชญาเศรษฐกิจพอเพียง เป็นทฤษฎีที่ให้ประโยชน์กับ "ผู้ปฎิบัติจริง" ==> ผู้ที่ลงมือทำจริงๆๆ จะได้รับผลนั้นจริงๆ
ขอบคุณ ที่นำทฤษฎีนี้ลงสู่กลุ่ม "ด้อยโอกาส ในสังคมไทย"
ขอบคุณ บทความดีดีนี้นะค่ะ
ฝึกแต่อาชีพที่ไร้สาระเพราะตัวผู้ฝึกสิอนเองขาดความรู้ด้านวิชาการและการวิเคราะห์ สามชิกในเรือนจำเองก็ขาดการเรียนรู้ผ่านสารสนเทศ เครื่องมือสื่อสารและอินเตอร์เน็ตที่เป็นของต้องห้ามอย่างร้ายแรงในเรือนจำ ทำให้ผู้ต้องขังหญิงขาดโอกาสรับรู้ข้อมูลและโอกาสทางการศึกษา อย่างน้อยคนเหล่านี้ต้องเตรียมการสอบเข้ามหาวิทยาลัยชั้นนำ และเรียนในวิชาการชั้นสูง รวมทั้งเรียนภาษาที่สอง ที่สามด้วย ขณะที่พวกเขากำลังดักดานอยู่กับคำว่า พอมีพออยู่พอกิน แต่คนที่ใช้แทปเลตและไอโฟน กลับมีความรู้อย่างกว้างขวาง และมีข้อมูลความรู้ที่น่าสนใจ ไม่ล้าสมัยแม้แต่น้อย ผมว่าเรือนจำชั่วคราวควรที่จะยุบเลิกคนที่ไม่รู้คุณค่าของการอ่านหนังสือ ไม่สมควรเรียกว่าคนศูนย์เรียนรู้แล้วปรับปรุงเป็นห้องสมุด ไม่ต้องฝึกอาชีพใดๆนอกจากการอ่านหนังสือ
ทางโครงการเองยังหาผู้ที่มีสติปัญญาด้าน วิทย์ คณิตไม่ได้เลยในขณะนี้ จะบอกให้เอาบุญว่า ความคิดความอ่านของผู้ทรงคุณวุฒิด้านนิติศาสตร์ ยังด้อยกว่า นักศึกษาในคณะวิทยาศาสตร์อยู่มากอย่างล้นพ้น เพราะ ทางวิทยาศาสตร์ ครุศาสตร์ เขาเรียนด้วยระบบคิด วิเคราะห์ สร้าง ทำ ไม่ใช่การท่องจำมาตราและตำรา ถ้าส่งเสริมคนเหล่านี้ทางวิทยาศาสตร์ชั้นสูงๆ หรือเรียนแพทย์ จะทำให้ลบปมด้อยและสร้างคุณภาพชีวิตขึ้นได้มากทีเดียว ฝากเรียนไปยังประธานโครงการและผู้บริหารให้พิจารณาตนเองด้วย เพราระในขณะนี้ ความรู้ทางวิชาการของแม่และเด็ก ยังอยู่ในเกณฑ์ต่ำและมักสร้างความทุกข์ทรมานให้แม่ลุกด้วยกฎระเบียบ เครื่องพันธนาการและคำหยาบคาย ฉะนั้นต้องใช้บุคลากรในด้านวิชากร วิทยาศาสตร์ อันมีแพทยศาสตร์เป็นต้น มาเป็นผู้พัฒนาด้านสหวิชาชีพจึงจะสมควร แล้วจะต้องให้แม่และเด็กอยู่ด้วยกันตลอดชีวิต เมื่อลูกโตแล้วต้องปล่อยตัวออกไปแล้วหางานที่สบายๆ ให้ทำเพื่อคุณภาพชีวิตของครอบครัว แล้วเรื่องค่าเสียหายในกรณีที่เป็นผู้บริสุทธิ์ ต้องจ่ายสดๆและมีการลงโทาเจ้าหน้าที่ผู้เกี่ยวข้องทุกระดับแม้กระทั่งศาล
เกณฑ์การคิดค่าเสียหายจะวันละ 200 ไม่ได้แล้วเพราะเป็นการประเมินค่าของมนุษย์เพศหญิงชาวไทยต่ำไป(ผู้บริหารไม่มีวุฒิภาวะ) ความเป็นจริงต้องคิดตามค่าตอบแทนสูงสุดของอาชีพทั่วไป (ไม่ควรตีค่าเป็นเพียงแรงงาน) อย่างน้อยก็ต้องเงินเดือนหมอ ป.ตรี และจ่่ายเพิ่มเป็นส่วนต่างของค่าลงทะเบียนเรียนด้วย ในกรณีที่ขาดการศึกษาหรือเสียโอกาสในการสอบ
ดังนั้นจะไปกล่าวหาใครระวังๆไว้มั่ง
ต่อไปก็เรื่องสิทธิสตรี อย่างน้อยที่ควรทำคือส่งเสริมให้เจ้าหน้าที่/ผู้ต้องขังหยิง ยืนปัสสาวะ
แต่ถ้าคนที่ทำผิดจริง โดยสัน.................. ต้องให้สังคมช่วยตีกระหนาบ ปิดทางไม่ให้ก่อ อย่าน้อยกระบวนการยุติธรรมชุมชนและการปราบปรามต้องมีตลอดเวลา ผมเชื่อมั่นในพลังมวลชน