His Majesty the King awards professors
Business day
HIS Majesty the King on Thursday presented the Prince Mahidol Awards to two professors for their dedication to medicine and pubic health during a ceremony held at the Ananta Samakhom Throne Hall in Bangkok.
Professor Eugene Goldwasser, pictured right, of the Department of Biochemistry and Molecular Biology University of Chicago was honoured and awarded in the field of medicine while Professor Harald zur Hausen, pictured left, of the German Cancer Research Center in Heidelberg won the award in the field of public health.
Professor Goldwasser played a major role in the purification and characterization of erythropoietin, which has provided an effective therapy for severe anemia in kidney failure and cancer patients worldwide, and his work has proven to be beneficial to the health and quality of life of mankind throughout the world.
Professor zur Hausen played a vital role in research on cervical cancer, one of the major causes of death in women. Cervical cancer is the third most frequently occurring cancer in women, and afflicts an estimated 500,000 women each year.
His breakthrough discovery has had a major impact on the understanding of the causes of cervical cancer, and has led to the improvement of preventative measures and treatment as well as to the development of vaccines against skin wart viruses.
The Prince Mahidol Award was established in on January 1, 1992, by the Faculty of Medicine, Siriraj Hospital, in commemoration of the centenary of the birth of Prince Mahidol of Songkla, the father of His Majesty the King who has been recognised as the "Father of Modern Medicine and Public Health" in Thailand.
Prince Mahidol of Songkla, born January 1, 1892 to King Chulalongkorn and Queen Savang Vadhana, graduated in Medical Science from Harvard University in the United States. During the first period of his residence at Harvard, he negotiated and concluded, on behalf of the Thai government, an agreement with the Rockefeller Foundation for assistance in medical and nursing education in Thailand.
The Prince worked at Siriraj Medical School in Bangkok and McCormick Hospital in Chiang Mai and greatly contributed to the improvement of Thailand's modern medicine and public health.
He once told his medical students that he did not wish them to be only doctors, but also human beings, and that true success exists not in learning but in its application for the benefit of mankind. The Prince Father died of a severe kidney disease at the young age of 37.
The awards are given each year to those whose works in the fields of medicine and public health have been internationally recognized as each award consists of a medal, a certificate, and a cash prize of 50,000 US dollars.
The Prince Mahidol Award is administered by the Prince Mahidol Award Foundation, with Her Royal Highness Princess Maha Chakri Sirindhorn as the chairperson.
ที่มา : Business Day, Thailand's only Business Newspaper in English วันที่ 26 มกราคม 2549
http://www.biz-day.com/read/general_news/26_jan_06/ck9ii-v/his_majesty_king_awards_professors.htm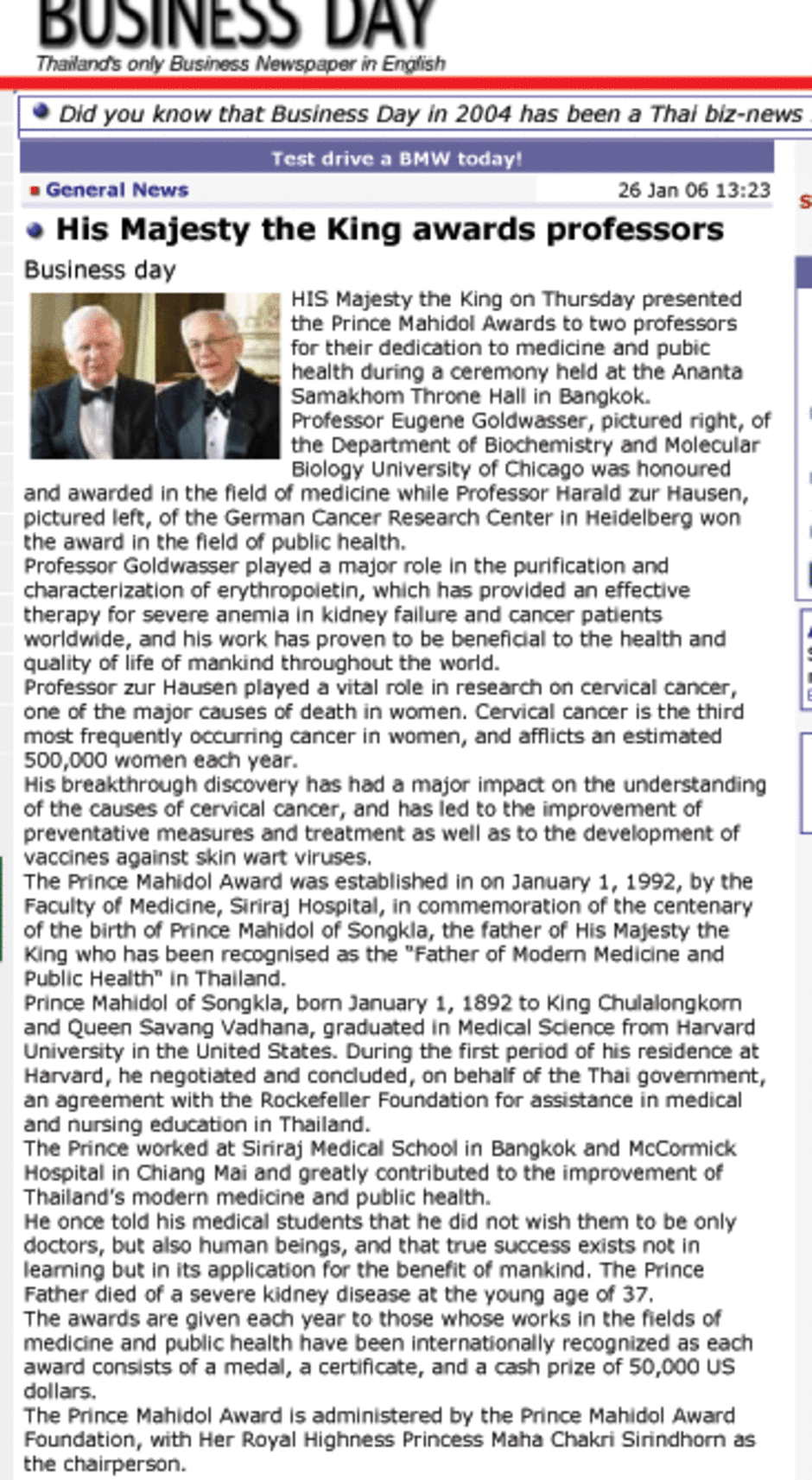 **********************************************
Posted in Gotoknow GotoKnow By HONEY
Post ID: 14779, Created: , Updated, , License: All Rights Reserved, Read: Click