Let's me share more pictures around the house. There are flora (flowers, herbs, trees -- plants) and there are fauna (insects, birds,... -- animals).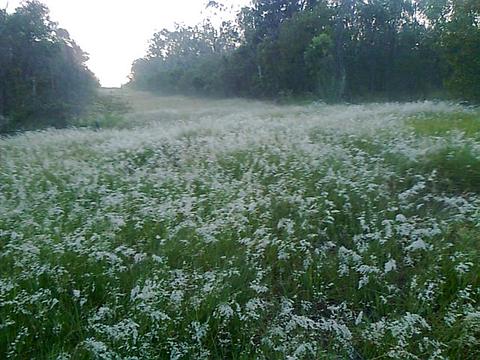 We can't really see anything but tall grass but believe me this is a world of insects, lizards, snakes, birds, and kangaroos.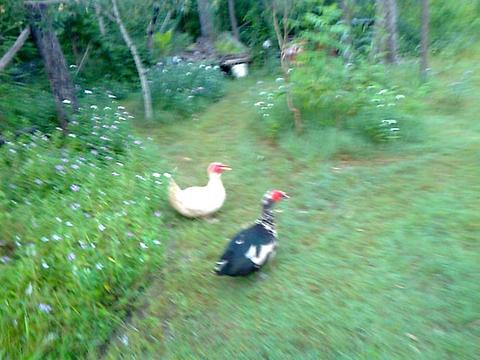 Two 10+ years old drakes (male muscovite ducks) enjoying their feeding ground and their golden age.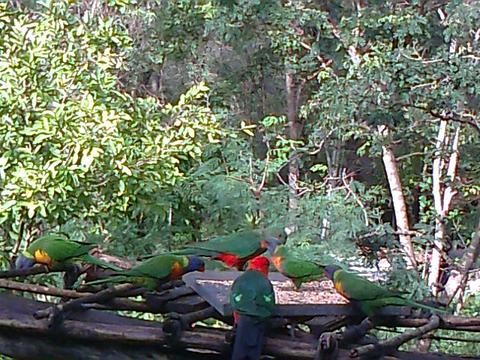 A community of King parrots (one with red head is female, green head is male) and rainbow lorikeets.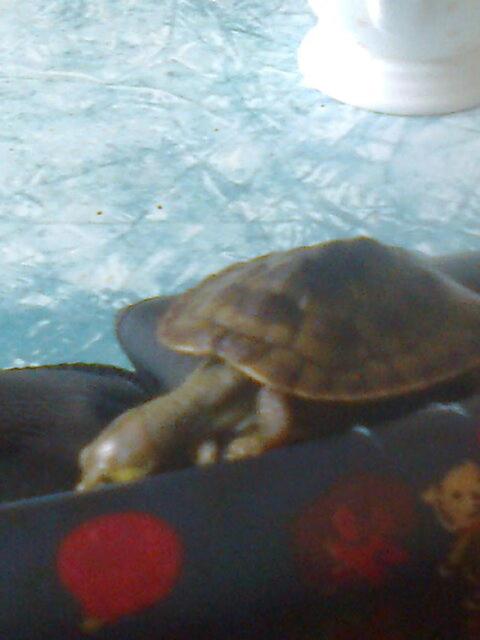 A small (50 mm wide) freshwater turtle (we call it Dr Who) strolling on a table. Dr Who was found wandering some 80m from the dam -- too high, dry and weak. After a few months feeding on 'wrigglies' (ริก กะลีซึ: mosquito larvae) and blood worms (please don't feed turtles with ผักบุ้ง despite what we have been told -- turtles love meats more and only some little vegetables and fruits. Young turtles feed many time a day, but less often when they are older. Old turtles may only eat once a week.)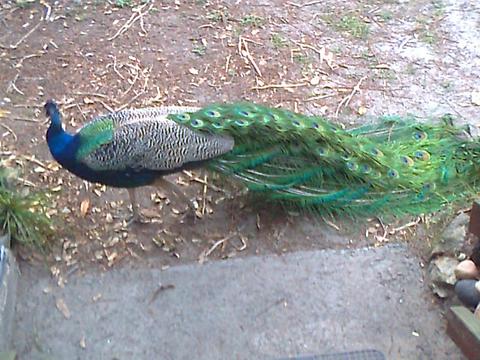 A peacock (called PC or sometimes 'Road Runner') scratching about at the house's back step. He can make a lot of mess. Peacocks put on their show tail in Summer and shed their beautiful tail feathers in Autumn.
หมายเลขบันทึก: 587382เขียนเมื่อ 12 มีนาคม 2015 21:46 น. ()
แก้ไขเมื่อ 12 มีนาคม 2015 22:14 น. ()
สัญญาอนุญาต: ครีเอทีฟคอมมอนส์แบบ แสดงที่มา-ไม่ใช้เพื่อการค้า-ไม่ดัดแปลง
---
---
ความเห็น (5)
Thanks ยายธี : Is the picture of the Chao Phraya at Ko Kret, Nonburi? I know this fish ปลาเสือ (Archer fish) and admire the way they spit water to hit preys above water surface.
Thailand still have many wonders of life. And many more things for you to do to help ;-)
Thanks GD : Green with envy, eh? ;-) Your kind words really lift me up. After toiling for many years to modify small patches of this bushland to make our home among gumtrees. Somehow, it's like creating a 'Frankenstein' (you know the story). We now watch and wonder which way this intervention ('monster') of Nature will go ;-) . We are in this world like going on a bridge to cross over to another place...

Have you ever thought of writing your journey from Thailand to this natural heaven (for those who love nature)? It must be very interesting and a great asset for GotoKnow.